This is a travel report of the bike trip I made in June 2021 cycling along the Ural Mountains from North to South. I had only two weeks leave to complete this journey. It begins in small town Ivdel, Sverdlovsk oblast and finished in south part of Bashkortostan.
12 June
Our train arrived in Ivdel at 4 am. The day before I tried to fall asleep earlier but it doesn't work when you're in a train car. People around you are still awake and you can't sleep tight. Peter didn't sleep at all even after I asked him several times. Ok, man. It's his decision to not sleep but the next day we have to ride about 80-90 km so rely on your resources and energy.
Once we unloaded from a train we were covered by a mosquito cloud. Despite a scheduled stop of 10 minutes, a train crew shut the doors immediately after we left the train. We have to protect ourselves with all our clothes. Anti-mosquito spray didn't help to stop them. It takes 40-50 minutes to assemble our bike and other stuff. Then we left the station to start our bike trip.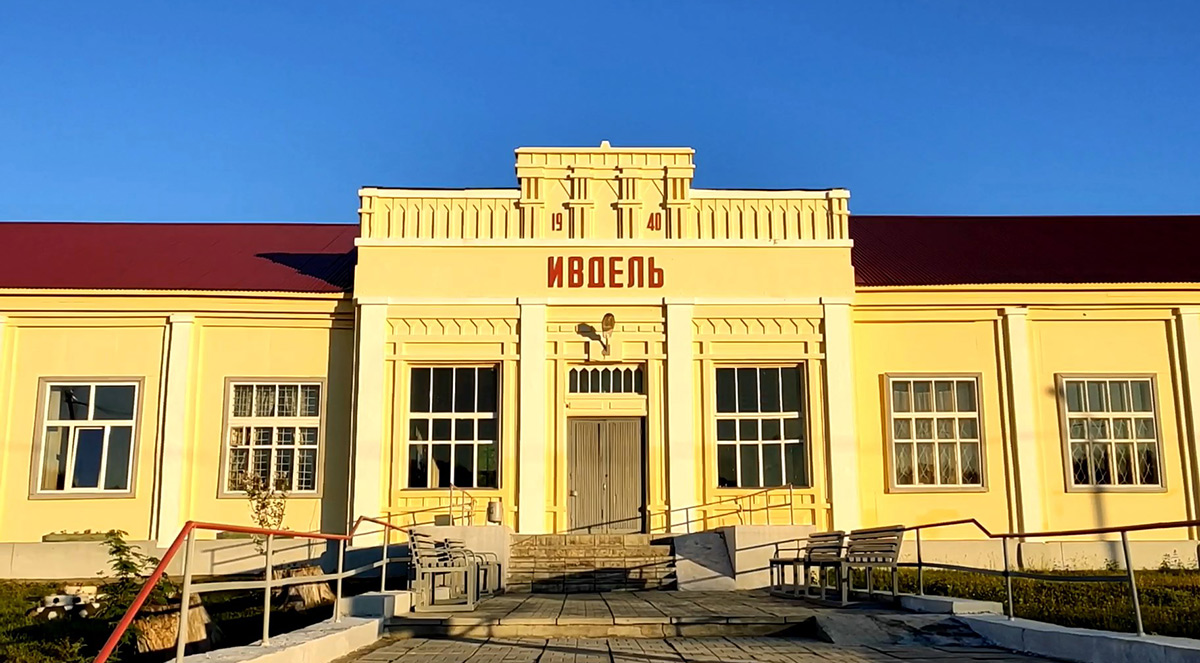 We are riding on the empty road and only dogs barking disturbs this tranquil morning. Police car patrol the streets but we didn't catch their attention.
The road to Severouralsk is almost empty. Only a few cars with 86 region plates passed towards the South. We made the first 15 km and then had a break to drink water, check bicycles and eat chocolate bars.
One moment I saw an elk on the road side. I ease my ride to become silent and had prepared to take a picture but a car approached behind me and the sound of the engine scared the animal.
Our first attraction to visit is Trenkinskaya cave. There I'm also planning to have lunch. It's located 40 km from Ivdel and just a couple kilometers away from the main road. We easily found this spot. There is a camping table in front of the cave entrance. I explored a cave a little – just 20-30 meters inside with my torch. Peter has refused to go in the cave so he stayed outside unprotected from mosquito bites.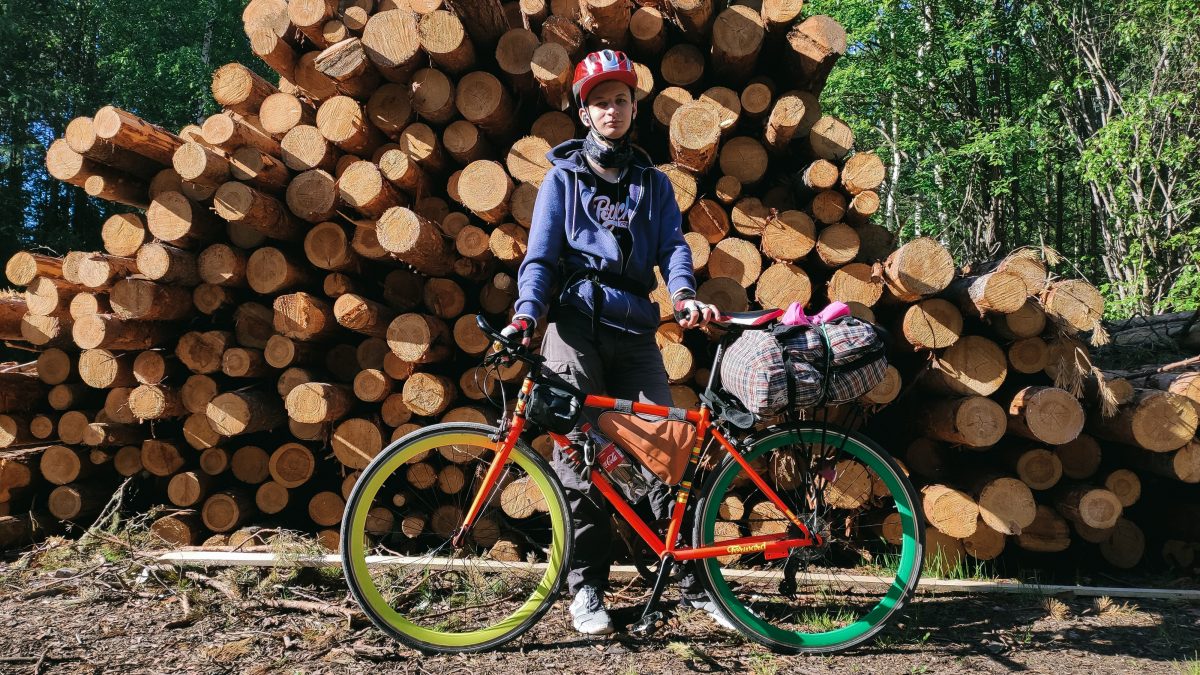 Then I made burritos from bread, beans and mayonnaise. We had lunch and hurried to escape this place and don't let mosquitoes eat us. They don't bother you while you're riding but it's a problem once you stop.
After Cheremukhovo a traffic became slightly busier. Peter started to nervous when cars passed him so close and our pace slowed down. We bought ice creams in the local shop for a chill. After a small break we continued our ride to Severouralks. A noticeable sign of the near city is a long-long pipeline along the road. And we start passing mining sites. This region is a huge spot of RUSAL mining business. 70% of all aluminum ore in Russia is mined here and RUSAL is a main employer for the local people.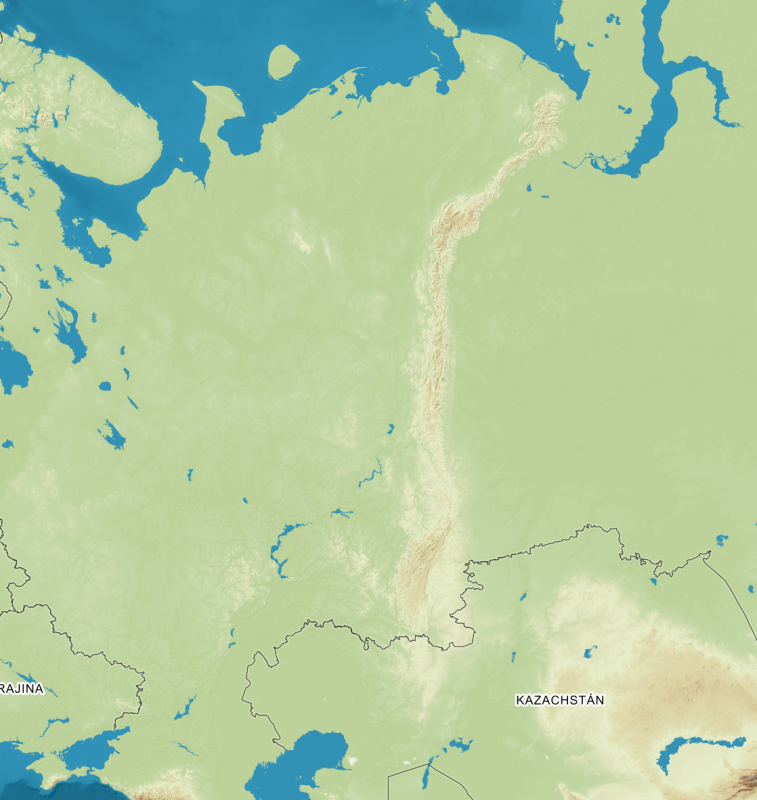 *NOTE
Ural Mountains
The Ural Mountains in Russia stretch north-to-south for over 2,000 kilometers (1,250 miles) from the Arctic Ocean to the Kazakhstan border, forming a natural divide between Europe and Asia. The medieval name for the mountains was the "Stone Belt" or simply the "Stone" (Kamen in Russian), reflecting the stone beauty and the harshness of the region
Iron and copper ore deposits were discovered in the Urals at the beginning of the 17th century and became the basis for the region's emergence as one of the first heavy industry regions in Europe.
Besides the geography location, an international recognition also have the motorcycle brand 'Ural'.
Our next attraction to visit is an abandoned airport. It was a hub that connected several small towns in a range of 500-600 km from Severouralsk. Now it is closed and only remaining transportation is a railroad. I had pinned the GPS coordinates of the airport in my smartphone so we easily found this place. Runaway is still in a good condition but all surrounding buildings are destroyed and the only old wooden air traffic tower remains. Looks like this place woke up Peter and he found it interesting. I made some rides on the runaway and we took pictures here. This place was abandoned and we hadn't meet no one.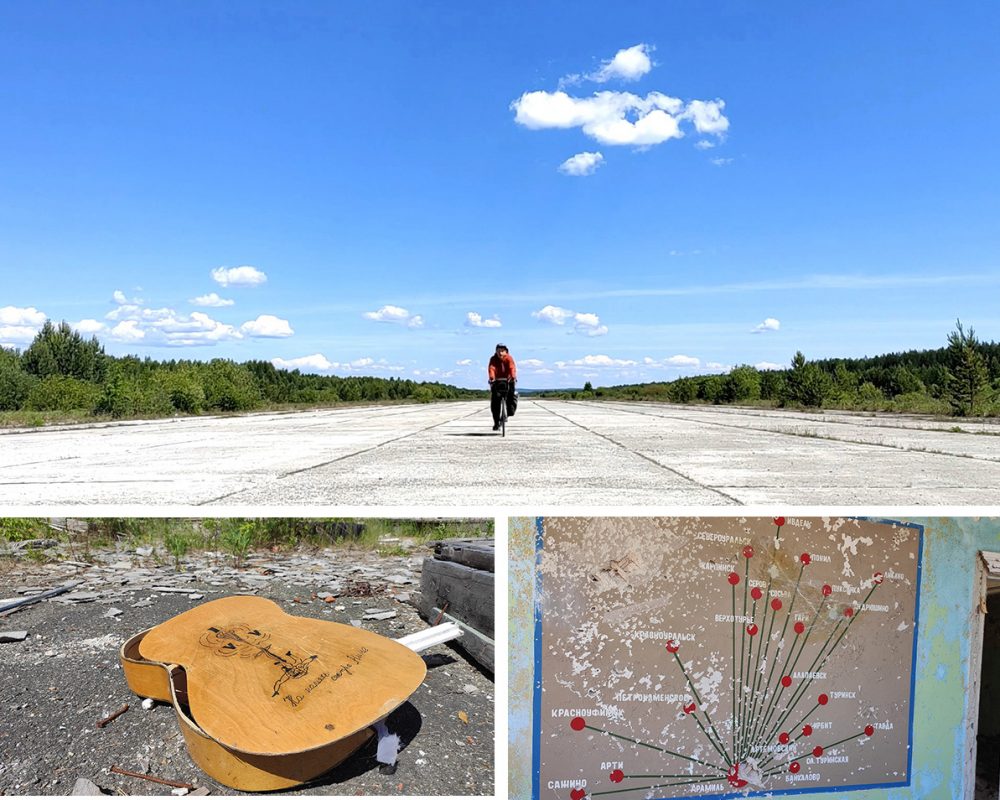 We continue our ride. Very warm weather for North Ural. We are in the saddle for almost 9 hours. It's time to search for a place to stop. When I had planned this journey I considered several options for the first night. We can pass Severouralsk and search for a good spot on the bank of Vagran river or we can stop on a natural spring site that I had discovered on Strava when I was exploring the rides of local cyclists. But I had an approximate coordinates of this spring. We turned off the road and started searching for a spring. After a 20-30 minutes walk through a forest I found a wooden shack. We stopped there and decided to pitch a tent. I explored the surrounding area and finally I found a spring side. It's a well decorated place for stay with a table and benches and some kitchen stuff. We have decided to stay in the bushes to avoid a meeting with the local people. I just refilled our bottles with cold water from the spring. When the tea was ready Peter was sleeping already and refused dinner. I ate some nuts and dried fruits and then went to sleep too.
In the evening I heard a motorbike engine. Someone came to the spring for water. It was a good decision to stay aside.
Today we cycled 92 kilometers.
Get GPX track for day #1. Ivdel – Severouralsk.
13 June
Sleep early and wake up early. We woke up at 6 am. Tent is covered with mosquitoes. We have to go outside and face it. We wear jackets and buffs to protect ourselves. We set off the camp as quickly as possible and relocated to the spring. Here we have breakfast: coffee and sandwiches.
While we were sitting and enjoying the morning sun a woman appeared. She was running and came to the spring. She was wondering how we discovered this spot because even the locals don't know this place. She was accompanied by two men and a dog. They came a minute later for the water. We had a small chat and explained to them who we are and where we are going.
When we returned back to the main road the temperature became warmer so we decided to change our clothes. As we inspected ourselves we found a tick on the bag and another one on my jacket. Ok. We are ready to keep cycling. Severoralsk is left behind and we have crossed river Vargan. No more mines on our way, just a forest on both sides of the road.
When the sun reached a peak the horseflies appeared. This is the most annoying insect in the summertime. The horseflies can make you journey crazy if you're not fast enough. We have to keep the pace to avoid their bites. At first I tried to wave off these annoying insects and only after a couple hours of riding I got used to ignoring them. I can't say the same for Peter because he rode slower than me and he had problems with the bites of horseflies.
Today we are planning to visit another attraction on our journey – town Volchansk. Here there is a tram transportation that operates on the smallest tram city network in Russia. We couldn't miss this place and made a turn from the main road to Volchansk. It took 5-6 kilometers that we covered quite fast and met other local cyclists. We realized that the tram network connects two parts of town and part of the railway goes through the forest. But we didn't see any tram. In town we found a local shop where we bought some food and made a break for a small lunch. We were sitting on the bench and looking across the street to a beautiful park with a playground when a woman approached us with the questions: Who we are and where are we going?
I immediately replied with a question to her questions.
– When can we see your infamous local tram?
– Not now. It operates only twice a day. In the morning and in the evening.
– But how do you ride between districts? On bicycles, I suppose?
– Yes. And we have a bus. I'm waiting for the next one to go to the garden*
(* In Russia it's a common case that people who are living in apartments have their own garden usually located outside the town border where they plant vegetables and fruits).
This woman told us everything about Volchansk and opened up her life here. After her son moved to Nizhny Tagil she was left alone here. I guess people in Volchansk are good ones and my impression is opposite to reports I had read on the internet before this trip.
We rode through the town and found a tram park where there was only the old one-wagon tram. A big angry dog started barking at us so we decided to leave this place as fast as possible.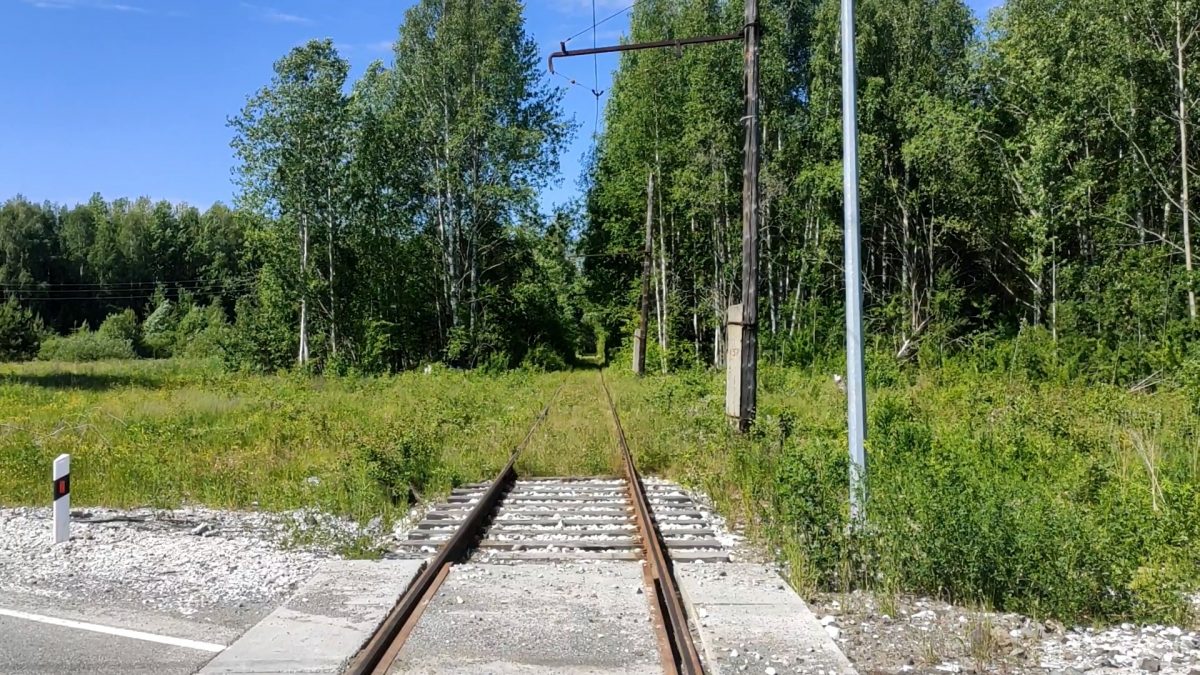 We returned back to the main road where there was still warm weather and after another 20 km we saw a gas station. We decided to make a small stop in the shade. I noticed that other people who stayed here walked on a small path in the forest. I walked in the same direction and behind the pine trees I found a sharp abyss. And there was a lake with water of bright aqua color.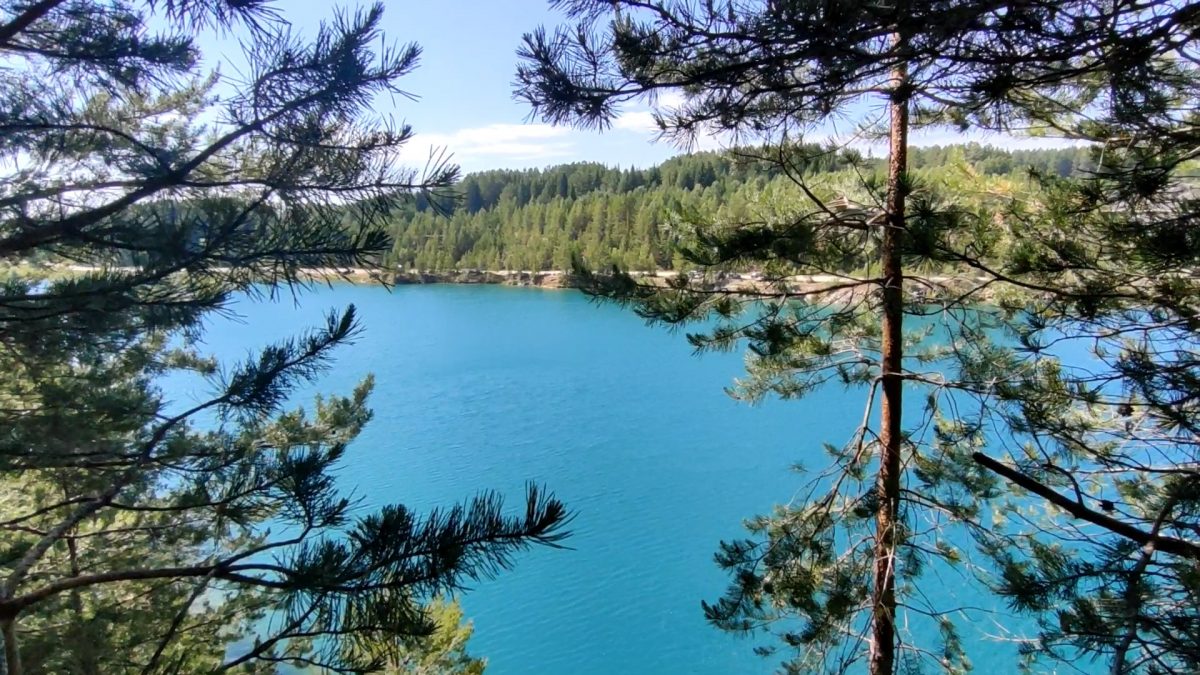 We kept riding to Serov. Final 5-6 kilometers we experienced problems with the water. The road bypassed the town so we didn't have a chance to buy water or ask people. The road led us through fields, swamps and bushes. After Serov we stopped at a gas station to buy a 5 litre bottle. We poured it out of our bottles.
Now it's time to find a good place to stay for a night. Imagine my reaction when I found out that there is a spring just 6 km along the road. We wouldn't buy water if I knew about spring.
We turned off the road before spring because we saw two trucks parked on the roadside. This place should be popular with the local drivers. We have pitched a tent in the bushes. After a small dinner with hot tea and chocolate bars we fell asleep.
Distance 108 km.
14 June
We explored spring the next morning. We found a great dinner area with a table and benches where we had breakfast. This place is modernized and well-equipped for the travelers passing by. We would be happy to stay there longer if we wouldn't be annoyed by mosquitos. The air was full of these insects.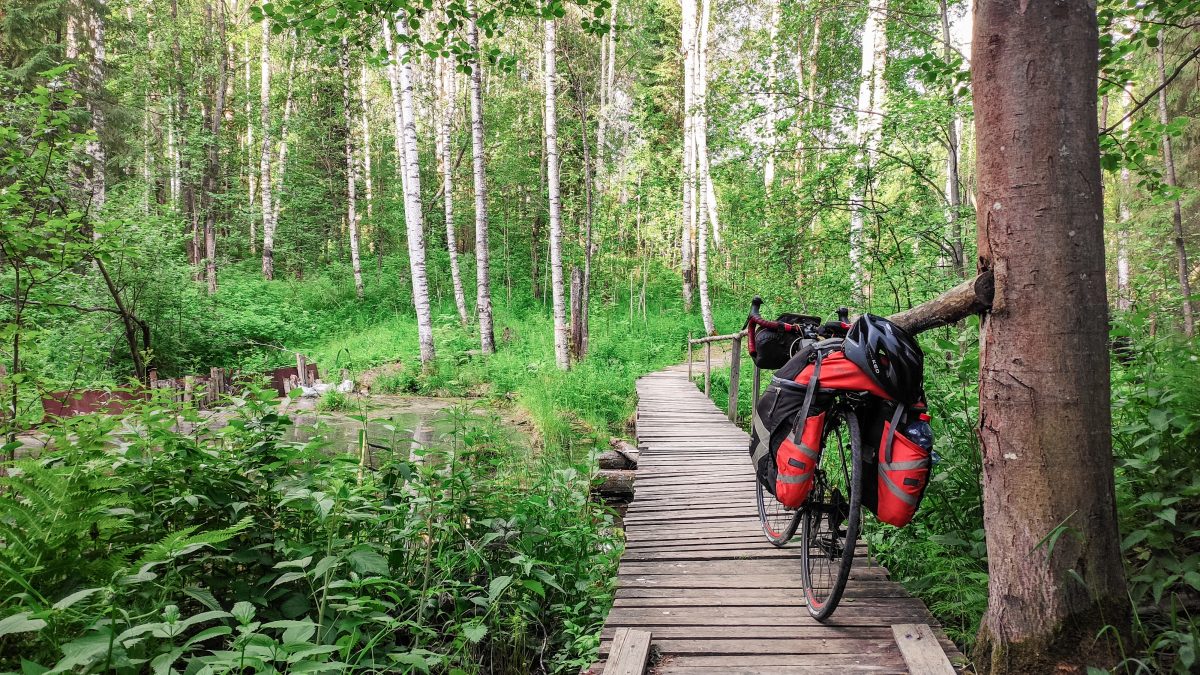 First part of the day we enjoyed our ride. No wind, mild weather and the gradual downhill to our direction. We made only a small stop at the bus station to stretch our legs, change clothes and eat apples. We continued our ride till afternoon when we decided to make a turn to visit a small town called Novaya Lyala. We entered the town from the North so we drove near a huge prison. The smell we felt while driving past was terrible. I even hid my face under the buff and held my breath. On the territory I saw a church and even a mosque. I not sure about the Christians but 100% know that Islam prefer to keep mosques in the clean and fresh smelling environment. You can't enter the mosque with dirty hands, ears and feet. Despite religious dogmatism all people even in the prison deserve to live in dignity.
In the town we visited a grocery store where I bought bananas, Cola, ice creams. After a small break we left this town and returned back to the main road. Peter checked with a map and realized that the next cafe or shop in 60 km away. That will be challengeable. I expected to keep the same pace that we had in the beginning of the day but in reality we had a tough ride. First of all, elevation has changed. The road starts going up and down. Second. Traffic increased significantly. That was the final day of the long holidays. People were returning back to home in both directions. I reduced water consumption and permanently refilled Peter's bottle.
When we crossed the Tura river I filled my empty bottle with the water from the river. I took a small sip. Water is not bad but it's better to drink after boiling. Or I can wash my mouth but not spoil it.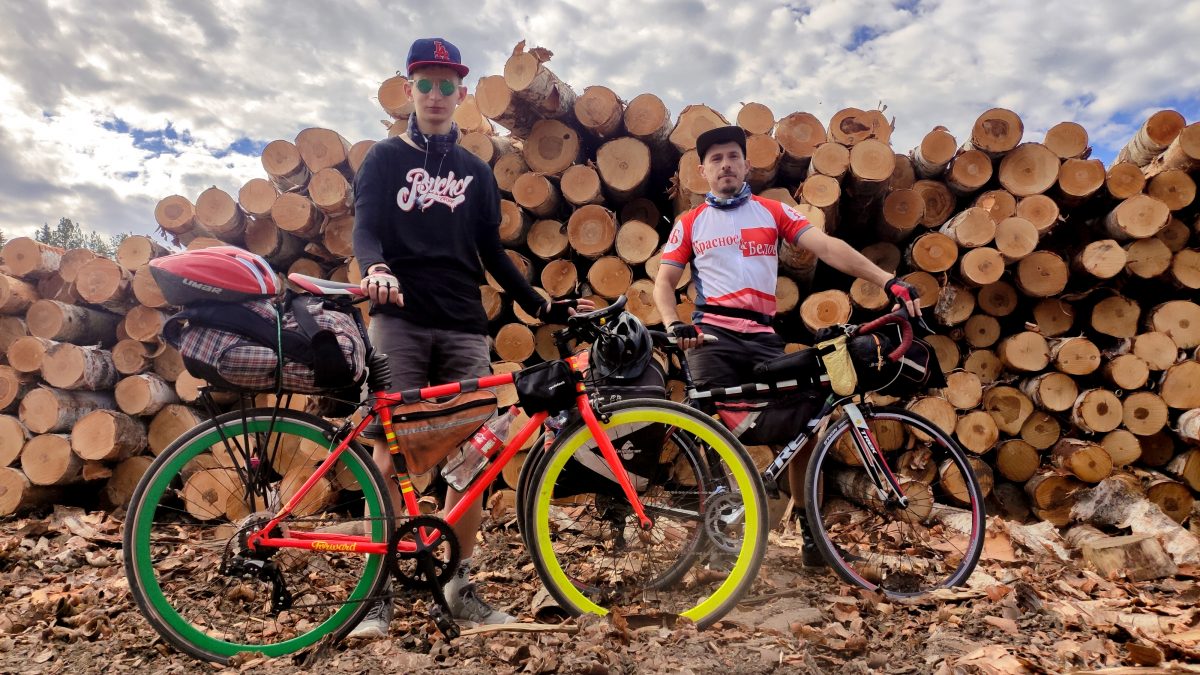 Last 10 km before a gas station I used to wait for Peter every 10-15 minutes. I offered him to change bikes to make his cycling easier but he rejected this offer. Finally, we arrived at the gas station and stayed outside a big cafe. I ordered dinner, coffee and bought a big bottle of Cola. Guy on the desk took our phone to re-charge while we were eating. We kept silent for 20 minutes and just drank cold Cola. We needed a rest after such a hard segment.
When we finished and left the cafe we met shift workers that starred on our bikes.
– And where are you going?
– Today is enough. We are planning to find a place for a tent. In general, we travel to Magnitogorsk, South Ural?
– From where?
– Ivdel. On North.
– Guys. Do you want to work as a miner? We need such strong workers.
– No, thanks. Biking is better.
Next 10-12 kilometers were swamps on both sides of the road. We needed to pass it before starting to search for a perfect turn. We were so tired so we moved to the first forest road we found on our way. That was a technology road for gas suppliers. Who cares? We did 500 meters and when we were not visible from a highway we entered the forest to pitch a tent. Before I start walking in the forest I do a simple procedure – wear a jacket, put both legs in socks, spray both legs and jacket with anti-tick poison. Spray our bags. Now you are ready for wild camping.
Distance 123 km.
15 June
Next morning I found a tick strandling on my buff. Happily, I found it on the buff, not on my neck. I made coffee for a warm beginning of the day. We picked up the tent and returned to the road to continue our journey.
Good news that we don't have to ride on the highway anymore. On the next crossroad we can turn to the secondary road that lays just a couple km aside and follow in the same direction but in a lower traffic. We wouldn't make it days before due to lack of alternatives.
Surface condition on the secondary road is not bad. The only difference is that this road is narrow – one way in each direction. After 5-6 km the asphalt turned to gravel and we got our fist (and last) puncture in this journey. Peter changed a tube and we continued our ride through the local villages. Gravel didn't last for long. Paved road came back again so we enjoyed our ride through the scenic Central Ural countryside. Soon we got rid of our jackets because the temperature increased.
The road lef us along the Tura river and through small villages. When the water was finished we easily found it. In every village there is a public water source.
In the afternoon we reached the next town – Verkhnya Tura. I made a stop to take a picture of the local church that rose on the hill. From this point you can observe the whole town. Then we start searching for a cafe or restaurant. We found one but it was closed. A man who worked there told us that it serves only for special events. One woman heard that we were looking for a place to eat and she suggested us to keep riding to the center and take lunch at the good cafe on the central square.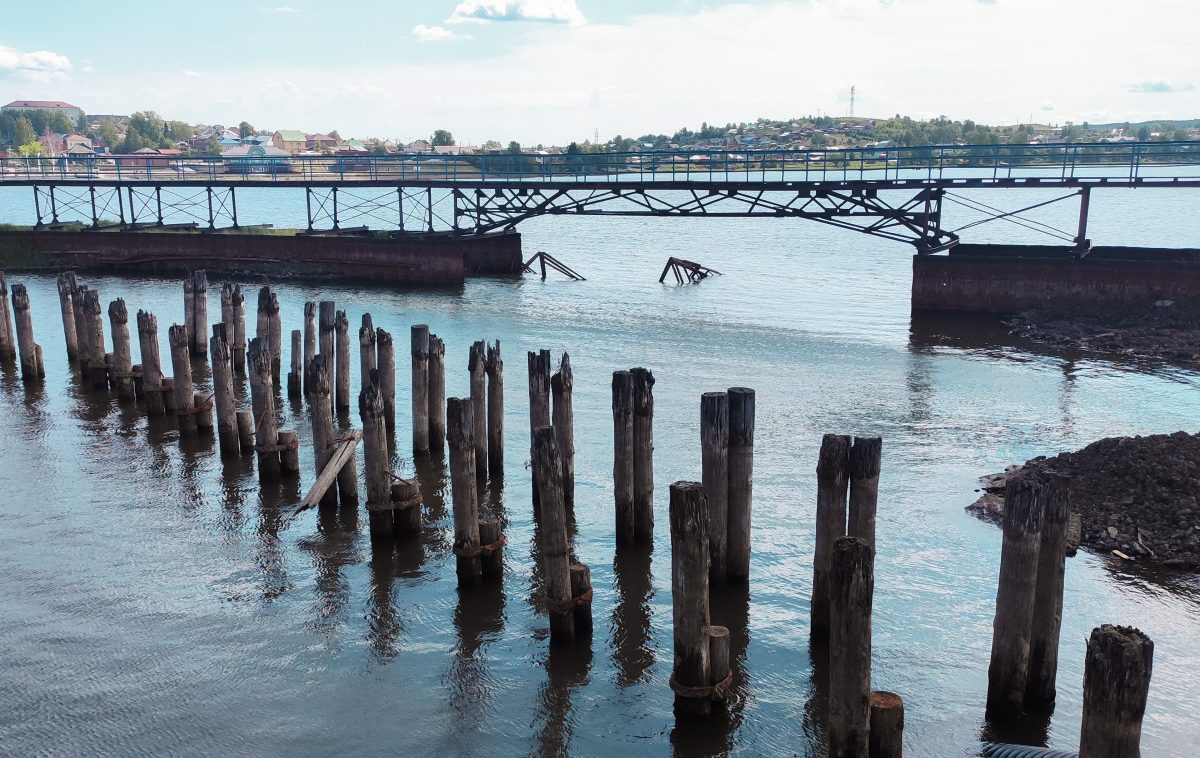 While we drove to the center we crossed the bridge over the Tura river and then followed by the river bank. I found this town cozy and interesting to visit. Pretty embankment of the wide bay where you can relax in silence. You can find old buildings dated from the beginning of 20 century to the last decade of 19 century. These wooden houses are not in good condition so It's worth having a look at them before they are not destroyed and replaced with new houses.
At a cafe that was recommended by a woman we ordered soups and salads. Peter ate some pasta with meat. In the perfect mood and desire to keep exploring we moved out of town. On the one wall I found a funny graffiti 'Have you smiled today yet? Have a smile!"
The next town on our way is Kushva. This is also an industrial town on the Tura river founded in 1735. There is a steel plant inside the city and some mining sites around. We passed this town without stopping.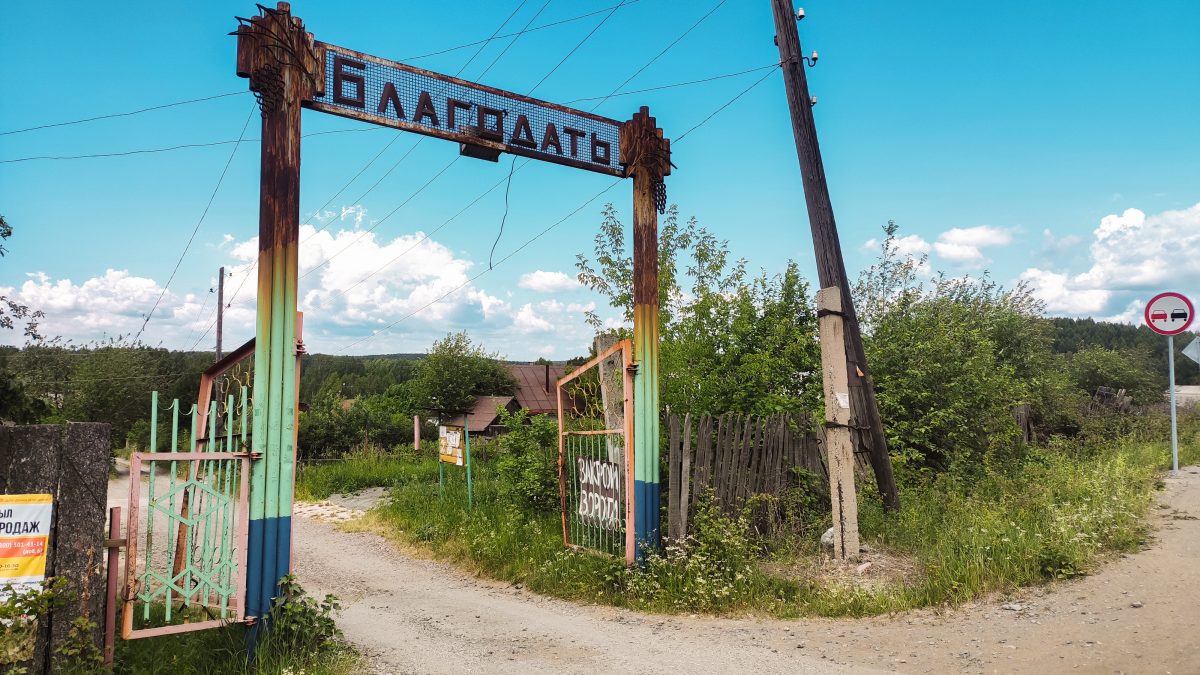 Riding on the secondary roads gave us significant joy compared with the nightmare we had the day before in the heavy traffic. Except for the Central Russia region where all roads are legacy of the old roads going through big and small cities between ancient post offices where travellers changed their horses, the federal roads in the rest of Russia lead you around the cities, towns and villages. This is a perfect ride for vehicles because you never get stuck in the local traffic. When you travel on a bike and want to visit a grocery store you have to make a loop about 3-5 km from the road to the closest village and back. But it's not a rule for the secondary roads that lead you through small villages.
Anyway, the final 30 km to Nizhniy Tagil we have to go back on the main road and we weren't happy to do this. It's better to cut it on a train. I checked with a map on my smartphone and made a decision to ride till the small station of Baranchinski. The station is located 2 km from a town with the same name. We bought tickets for the closest train and paid RUB 25 for each bicycle.
Peter is tired of riding on a bicycle that doesn't suit him well. To see him gnarled on a bike is a pain for me too. We start thinking of his giving up when we reach Ekaterinburg or even Nizhniy Tagil. When we arrived at Nizhny Tagil train station we headed to the ticket office. First of all we found out that there isn't an airport in Nizhny Tagil and there isn't a direct train to Moscow. We had planned to buy a ticket on the connection train via Ekaterinburg. A woman behind the desk suggested another train from Ekaterinburg that departs earlier. We weren't understanding how we could manage to catch this train from Ekaterinburg because the closest train from Nizhny Tagil arrives later than this train departs.
– Take the express train
– Really. Why didn't we see it in the official schedule?
– Because it is marked as a suburban train, not an intercity.
– You can purchase it at another desk.
I found another desk that serves the suburban network. Cross checked with a schedule that Peter will get enough time for connection in Ekaterinburg and then we bought a ticket from Ekaterinburg to Moscow.
Ok. We have 2 hours before departure. I'm staying for a night in a big city and I have to rent an apartment for a night. I made a call to one rantier that has a free apartment not far from the center but he wouldn't let me bring a bike inside. We agreed that I will leave a bicycle in the lobby but I will detach both wheels and take it with me. I paid RUB 1,000 for a clean bright studio on the first floor. Peter took a shower, then we re-packed our stuff. I kept my belongings, tent, the cooking equipment and got rid of other not necessary things. We returned to the train station and had dinner in the closest fast food restaurant. I helped Peter to take his seat on the express train to Ekaterinburg. When I returned to the rented apartment I washed all my clothes, boiled tea and watched stupid movies on TV. I was waiting for a call from Peter to be sure that he had transferred to his train to Moscow. I got a call at 11 pm, set the electronics for charging and fell asleep.

Short distance today – 64 km.

16 June
Next morning I had to wait till 9 am to return the keys to the owner. I packed my stuff and prepared dried fruits and nuts stored in the feedbag. Late departure for me and I have to find the right road to leave the big city.
I had prejudice in my mind that Nizhny Tagil is a suburban industrial city where there is nothing to see and people here are rude and not interesting. That's a narrative opinion was built by the Russian TV show where people from Tagil were presented as not smart persons that travelled abroad for the first time and behave themselves ridiculous.
In reality there are many to explore here. Nizhniy Tagil was a main city of steel imperium of Demidovs – a dynasty of blacksmiths from Tula that came here and built the biggest steel and mining archipelago in the Ural mountains. And the first train in Russia was created here by engineer Cherepanov. I hope to have a chance to visit Nizhny Tagil again and spend more than two days exploring local museums and surrounding towns. I was impressed that they saved the old factory and made it a factory-museum.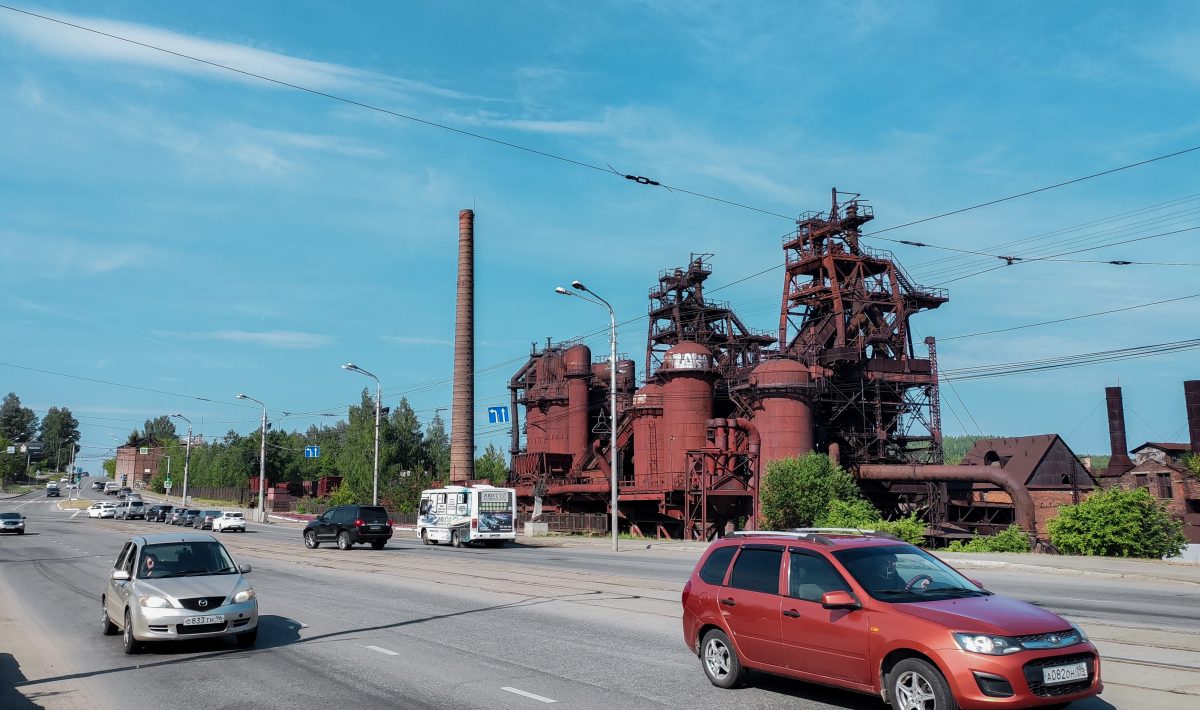 While I was leaving the city I used to ride behind a traktor. Having a choice between breathing a carbon or I trying to overtake this polluted vehicle I used a chance on the next crossroad and sped up to leave this traktor behind me. But I realized that a traktor was heading in the same direction as me so I had to keep my speed at 28-30 km/h to not let him take the lead. Only when I passed a sign of city border I decided to take a break and drink some water.
Here was a crossroads. One way leads to Ekaterinburg – the main highway between two cities. The second one leads west – to the Chusovaya river. I've planned to reach Chusovaya and explore sights around so I keep riding West. My target for today is a small village called Sulem on the bank of Chusovaya.
On the road I met two cyclists on road bikes that were training on the hills. After I passed the village Chernoistochinskaya I stopped for breakfast on the beautiful shore of river bay. Then I rode through villages Uralsky and Visim. Visim represented a typical Russian village with wooden houses and wooden wishing wells. Every well has a unique design and huge wheel. Here I refilled my bottles with fresh cold water.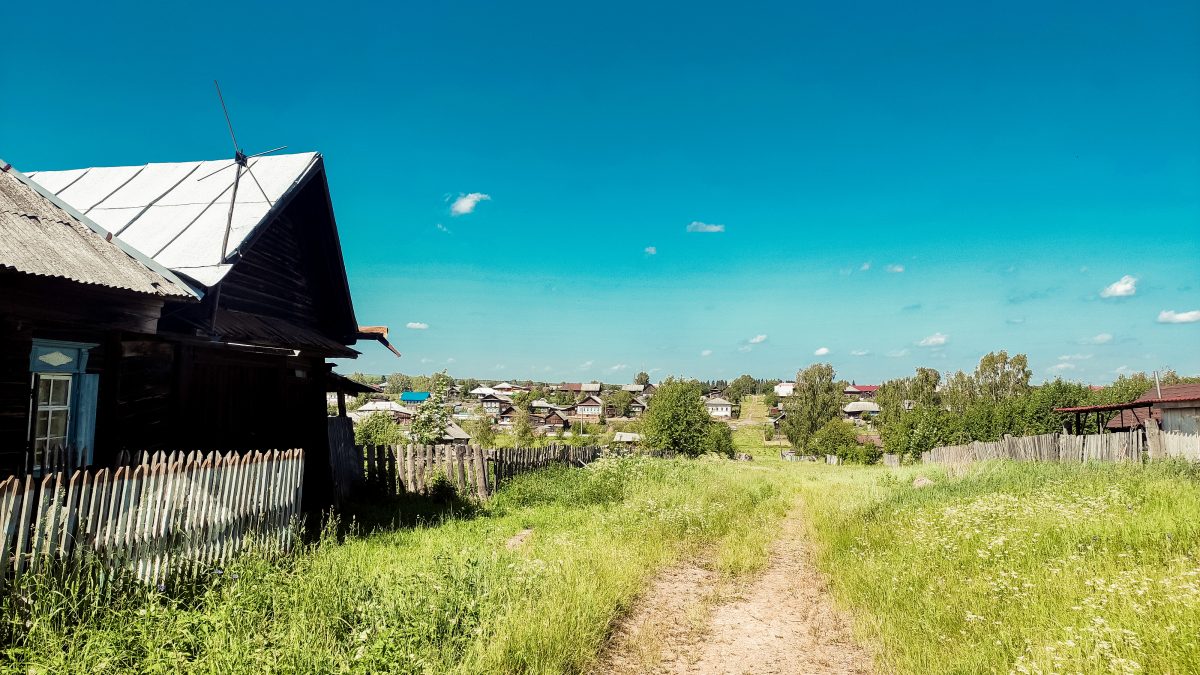 Visim is also infamous as a place where Russian Writer Mamin-Sibiryak was born. But I noticed that this village and others that I visited don't have a gas supply. People still use stoves to keep their homes warm.
Today cycling is exactly what I have expected from good bike travel – interesting places, low traffic, good asphalt surface and average evaluation. I'm riding in the delta of Utka River through small villages. I should admit that I started thinking about renting a house for a week or ten days here and doing daily bike rides for 50-60 km to explore the surrounding area. Not only on the road bike but also on mountain bike or even for hiking.
The next big village on my way is Visimo-Utkinsk. Here I was looking for a public water source but I didn't find it. So I needed to ask the locals for water. Usually I find someone who is idling in the front of the house and ask to help me get water.
Two mens were fixing a car and I stopped and gently asked them for water. Older man took my bottles and hid in the house. He returned in 5 minutes and asked me:
– May I offer you a big 5 litres bottle?
– No. This is enough. Thank you.
– Are you sure? Maybe 2 litres.
– I already have one. I asked you to refill just in reserve.
– Where are you going?
– Sulem.
– Ok. Good luck. – he replied and returned to his car.
So I continued my journey. For the next 15 km there will be no more villages. I have to keep an eye to not miss a right turn to Sulem and then I have to cycle another 14-15 km on gravel road to Sulem. On the turn I met two guys on a truck fully loaded with wood. I tried to figure out what road I have to expect after Sulem. They told me that there are two bridges over the Chusovaya and Sulem rivers. But they haven't been behind the second bridge. These guys were from Chelyabinsk and now they are heading home. This information gave me an understanding that they will use a main highway and head in the opposite direction back to Nizhny Tagil.
Ok. I'm riding on the gravel. But the first couple of kilometers it was covered by concrete plates partially destroyed. Not a confort riding and I decided to take a break and relaxed for 10 minutes gathering berries in the shade.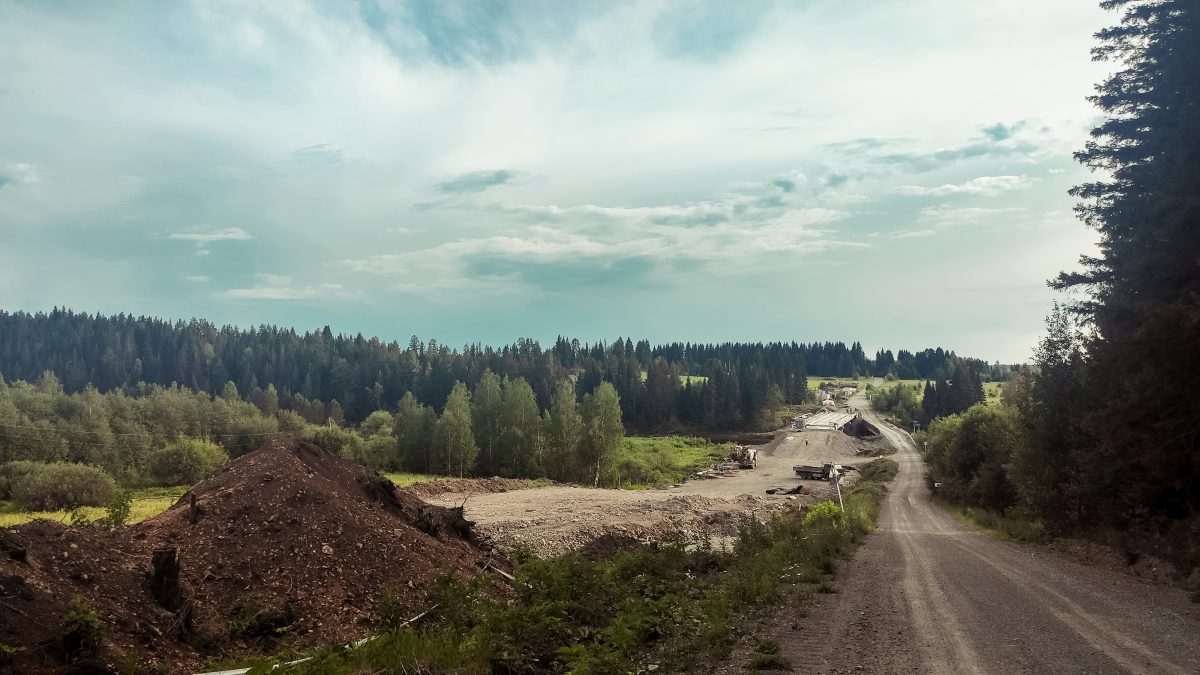 Then I continued cycling. Soon the road surface transformed to the regular dirt road with little gravel chunks. Much better is that the road starts declining. I was riding in quite an uninhabited area. For the next 12 km I met only 2 cars driving towards me. After 30 minutes of great downhill I reached the first bridge. A group of construction workers maintained this bridge over the Sulem river. That means I've reached my destination – Sulem village. Here I planned to to find the local open-air museum. The attraction that I've expected to visit. I arrived just before sunset – the perfect time to take pictures of calm waters of the Chusovaya river.
Local boy, 9-10 y.o. showed me a direction to the open-air museum. Two local artists built these sculptures from the remains of old agricultural machinery, pieces of steel and heavy steel leads that had been used in 19 century on transportation barges to slow down the speed of the boats in the fast river stream in early spring. The exhibits are dedicated to river workers that transported steel from Ural factories by Chusovaya every spring.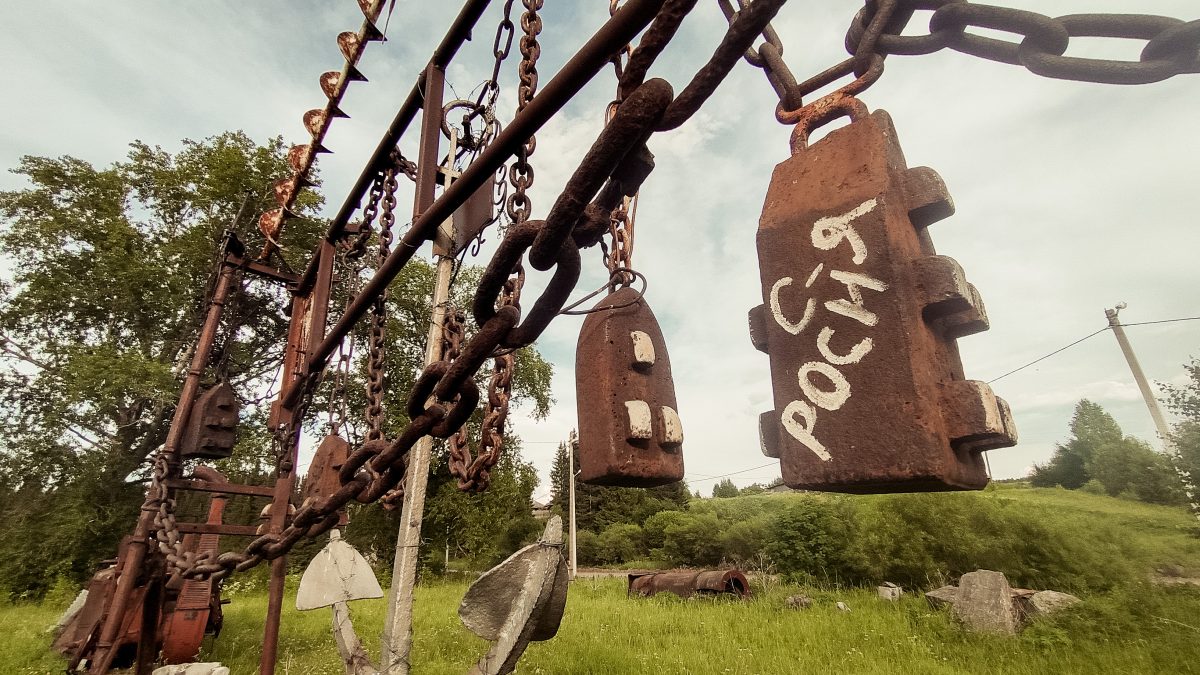 My plan for today is almost completed. I just have to ride 2-3 km more along the river to the camping site. But I saw the lightning and heavy black skies on the horizon. I made a decision to stop immediately and pitch a tent on a clear spot on the river bank. I took only 5 minutes to setup a tent and hid all my stuff inside. Including me. But the rain has gone to the West. For me was nothing else to do as to make tea and have dinner. Tracker showed me a distance for today – 99 km from Nizhny Tagil. And no cellular coverage here. Last time I called home was this morning.
Get GPX track of day #5. Nizhny Tagil – Sulem.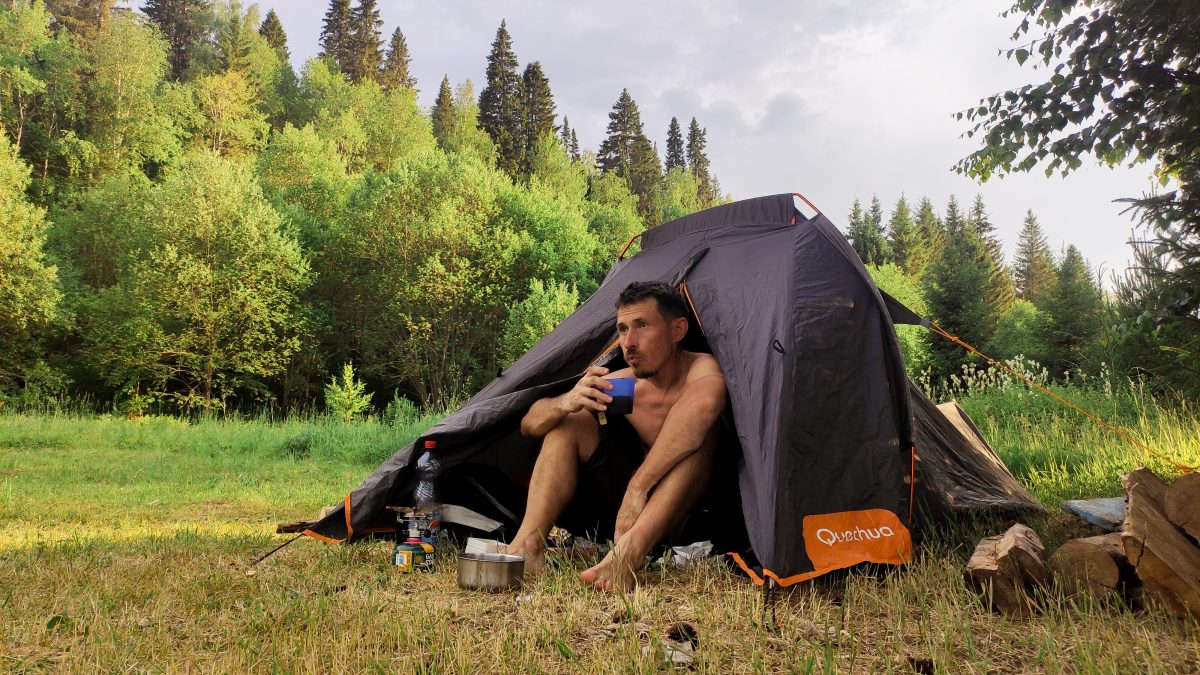 17 June
Rain came the next morning. It was a short rain that just covered the ground but didn't wet my tent. I waited until the rain finished and set off for a new cycling day.
Chusovaya river curves around the hills were I saw other good campaign sites. Today I'm riding in the National Park 'Chusovaya River'. Entrance, parking and staying on the camping sites have a fixed cost. So keep it in mind. Seems like I travelled here during low season – so I didn't meet anyone from the park staff. Or maybe because it was early Tuesday morning. I guess, if I rode through park on the weekend someone definitely will charge me for camping,
Riding on the wet road revealed another problem. Before a trip I set up new tyres 700×28 instead of my regular 700×23 in order to have a softer ride on the gravel roads. Good decision for the rear wheel but on the front wheel I left only 2-3 mm of space between the tyre and fork. And now dirt and mud is stuck in this tiny space. I heard a strange scratching sound in the front of my bike and when I stopped to check I realized it was mud. I found a small wooden stick and used it to clean the space for the front wheel but it stuck again after 300-550 meters. The Worst thing was that dirt stripped paint from the fork. I had to take off the wheel and clean both tyre and fork to continue my journey.
The next 2-3 km I tried to go around the puddles to keep my wheels dry. Otherwise the mud sticks to the tyre very quickly. Every 2-3 km I had to stop to clean mud between tyre and fork, then ride and after another 2 km did another cleaning. Soon I reached a turn from the forest road but I realized that I should keep riding on the gravel surface. According to the map It will last for the next 9 km before this road meets another one. All these 9 km I kept cleaning the wheel and fork and did many stops. I saw only one car on this road. A man in an old soviet car 'Moskvitch' stopped to ask me for a road. It was funny but he used a paper map for navigation. Some roads on his map don't exist anymore. I checked it with my smartphone and assured him that if he keep following this road he would finally reach Ust Utka village. This man told me that on the next crossroad a gravel road continues and only closer to village Ilim it turns to asphalt. That means another 20 km of gravel for me. Happily the road dried under the sun so I made a final fork cleaning.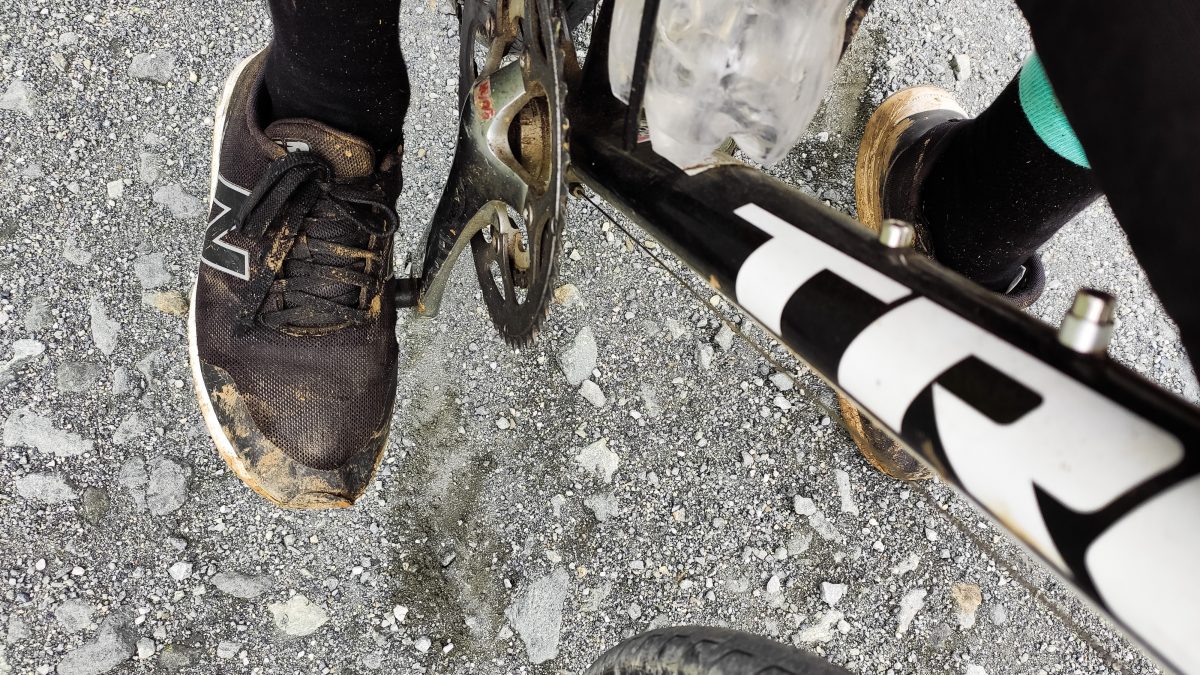 Despite that I spent half of the day getting out of the wilderness and then cycled on the road with washboard I was happy that I spent these two days far away from civilization. I reached Ilim where I bought sandwiches and apples in the small shop. Still not mobile coverage here.
It took another 2 hours before I reached the town of Staroutkinsk where I caught the signal. First of all I made a call to my wife Xenia. She was crazy without any message from the past morning. I had to explain that I'm ok and it's a common thing that there is no mobile network in the national parks. My mistake was that yesterday I hadn't warned her that I'm going to the National Park.
The way to Pervouralsk was primarily downhill. So after 35 km of gravel I have enjoyed an easy ride on a good road with moderate traffic. I promised my brother Marat whom I hadn't seen for 5 years to visit him in Ekaterinburg. To be there I have to cut my way on a train.
But before I planned to see another attraction – big stones on the bank of Chusovaya in small village Sloboda. This place is called Slobodskoy Kamen. I guess it's not the only one sight point on Chusovaya. I choses this one because I saw pictures in the Strava report of one of the local cyclists.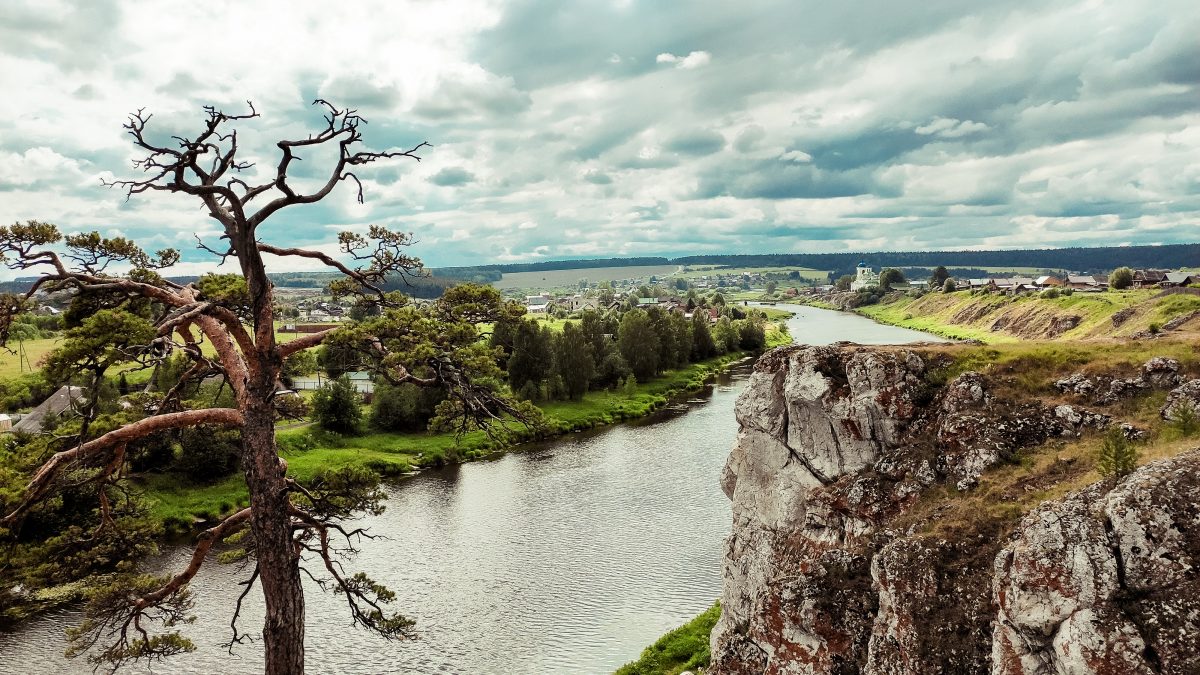 When you are on top you see the river below. In the distance you see the village and shining domes of an old church. I tried to freeze this moment and ate some chocolate enjoying a beautiful view.
Then I made another 12 kilometers to Boitsy Station where I took a train to Ekaterinburg. Another 7 km to my brother's apartment where I took shower, washed my clothes and spent a good evening chatting and drinking wine.
Distance -107 km +7 km in the city.
18 June
I planned to have a rest in the morning and then take a train to return back on the road. When I checked with a train schedule I realized that there are two morning trains and then a break in schedule till 12-00. I didn't want to spend half a day in Ekaterinburg so after a fast breakfast I jumped in the saddle and rode back to the station.
Following advice from Marat I took a train to Druzhinino. Yesterday I finished my ride in Boitsy. To continue my journey to the South I have to cross a highway between Perm and Ekaterinburg. But if I return to Druzhinino instead of Boitsy I will get South of the highway and I shouldn't cross it. Last 30 minutes to Druzhinino the train was almost empty so I did a little maintenance and changed the braking pads on my bicycle.
Train ride took an hour from Ekaterinburg to Druzhinino. I left the train and started searching for the exit to the road to Nizhnie Sergi. After 4 km I reached the main road with good asphalt and continued my journey to the South.
Central Ural is the lowest part of the Ural Mountain ridge. If you are looking for mountain hiking you better have a look at the North or South Ural. Today I rode on the highway with endless pine hills from both sides. After a turn to Nizhnie Sergy I spotted an interesting building on the left side of the road. It was a country resort built in ancient orthodox style with tall wooden walls with defending towers and a big mill inside the perimeter. Only the electric wires can remind us that it is a modern construction. This place is called Novaya Elnya and is claimed as a country resort with attractions and horse riding. I hadn't noticed no one living soul here. Easily walked around buildings, climbed to the tower, took pictures and left it unnoticed.
The road pass an another national park "Olenyi Ruchie' (Deer Springs). In the afternoon I started thinking about lunch. I stopped at one road cafe but they only served sandwiches. On bike travel I rather keep eating dry fruits and nuts then fill my stomach with bread and meat.
As I mentioned the road was in excellent condition but then it transformed to the perfect level. Black, clean and smooth surface. Seems like this part of the road was refreshed recently. I saw the piles of remaining asphalt on the road sides. Who paid for this luxury?
Soon, I reached the small town of Mikhailovsk – my final town in Sverdlovsk oblast. I decided to find a place to eat here. Here I had a chat with one of the residents – man Vladimir who asked me about the trip. What distance I cover during a light day, what bicycle and equipment I use. He showed genuine interest in bike travelling. He told me that he is cycling daily on his alu-bike Stels and do 30-60 kilometers but never did it for 100 kilometers. I assured him that if he made 60 km the next achievement (100 km) will be completed without significant problems. I asked Vladimir where I could eat in his cozy town and he showed me a small cafe across the street.
Vladimir wasn't the only one cyclist in Mikhailovsk. I was sitting in a cafe and staring at the window. I saw many kids and adults riding on the street on bikes. Good town. Leaving Mikhailovsk I turned back and noticed the message 'Have you smiled today yet? Have a smile' written on the roof of the house. Seems like this a motto for all good towns in Ural. I put a smile on my face and continued cycling towards the main road. At the crossroads I realized why this region has the best roads. A big asphalt factory was on the edge of town. Road maintenance is a main industry in Mikhailovsk.
I expected to see any sign that I'm leaving Sverdlovsk oblast and entering Chelyabinsk oblast or Bashkortostan. But the road I chose led far from big towns and nobody cares where there is a border between regions. Soon the road turned to gravel and all cars that overtook me left me in dust clouds. Happily, there weren't many of them. Traffic here is close to zero. I met only a few cars or trucks with the locals in the next hour. I've planned to ride toward the town of Nyazepetrovsk in Chelyabinskaya oblast. But I changed my plans when I found a turn to South through the small Bashkir villages. Bashkortostan met me with the familiar smell of farm animals. Time turned to evening, shadows became longer but I kept riding enjoying the sunset. I bought a bottle of kvass (malt) and some bread in a small shop in the village of Belyanka. Cashier explained to me that I shouldn't expect asphalt for the next 40 km. Soon I found a good spot on a hill between two forest rivers and set my tent in bushes. For dinner I ate canned fish and bread. Then I realized that this area has a fine 4G coverage. I made some tea and planned to spend time reading Facebook and Twitter on my smartphone. But my eyes started rolling slowly and I fell asleep. I woke up in the middle of the night when I felt frozen. I wore my hoodie and curled up in the sleeping bag.
I made 125 km today. Thanks to good roads and friendly wind.
19 June
Cold morning, bright sun and hot coffee. This is my first bike trip where I never built a fire. Instead I took my old backpacking stove. I purchased this stove10 years ago and never used it. Now I enjoy quick boiling every morning and sometimes in the evening when I have energy to cook. For me it takes only 3-4 minutes to boil a big cup of coffee. I'm already a week in the saddle and keep following the 'Leave no trace' ideology.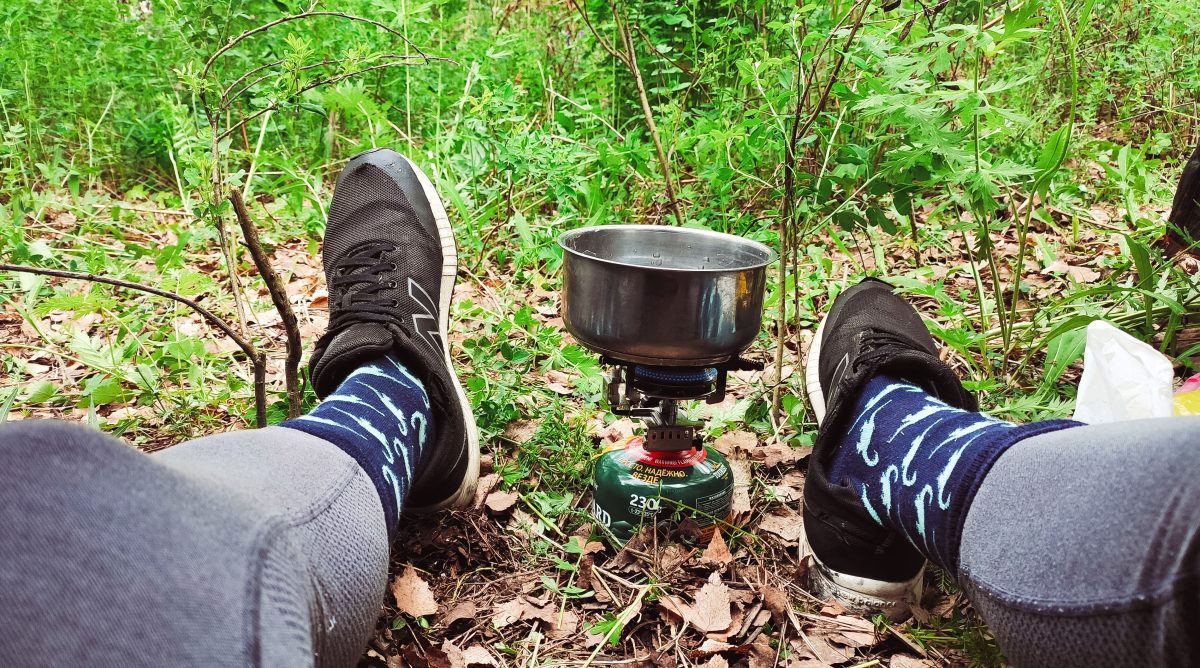 I wore leggings behind the shorts to keep warm. But once I started to cycle I felt heat inside and decided to ride only in shorts and light jacket. I passed the village Pervomayskoe where people had not gotten up yet. The lonely yellow bus PAZ overtook me this calm morning and cows followed me with a gaze.
I got lost a little when I drove past a turn and was forced to return. Happily, I have a GPS track from another traveler Alexey Klyanin who had explored these places in May 2020. Track leads me through isolated villages that look at first sight as inhabitants far away from any town. The closest one is Nyazepetrovsk located 27 km from here. Only cows and sheeps are grazing in the fields.
When I was passing through a tiny village Bekhtereva a big white dog appeared. The dog was following me for 3-4 kilometers without any harm. Seems like she found it funny to run with me this early morning. I tried to scream at her – she just stared at me, I gave her some nuts – she ate it. And then kept running. That was her decision when to stop following me and turn around back to home. But she missed the most interesting. Because on the next road curve I saw a fox running on the roadside. I tried to cycle quietly and gradually got closer to her. Bike chain switched from one speed to the lower one with the small sound. That was enough to frighten the fox and she ran away to the grass.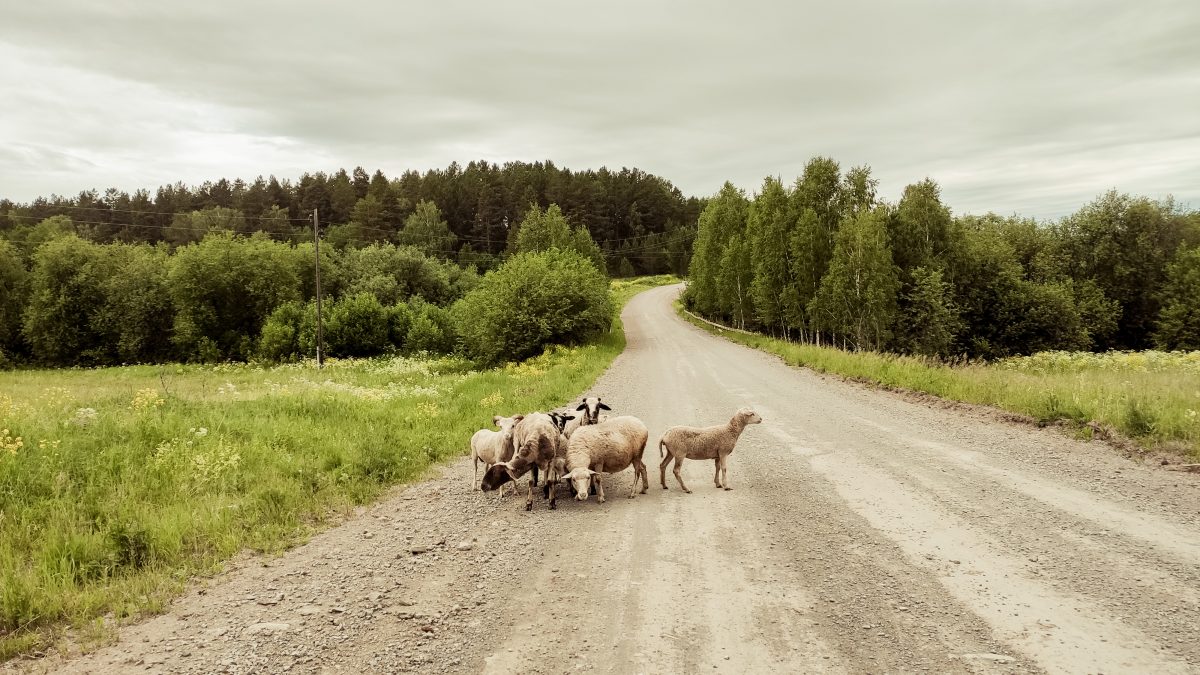 Few meters before a village Kalinovka I stopped at spring to refill my bottles with fresh cold water. I also decided to prepare buckwheat in the plastic container. Just soak it in water for 30-60 minutes, add some salt and a delicious tourist dish will be ready.
The road condition is very comfortable for gravel. I even decided to make my cycling more fun and plug headphones with music. Usually, I never listen to music while cycling as a safety measure. But here is nothing to worry about. Zero traffic, light tailwind and good pathway – what else do I need?
Today is Saturday, the first day of the weekend. I realized that when I met drunk people on my way. First, I saw two shepherds in the field. They greeted me with a wave and welcomed me for a small talk. My advice – never stop for a chat with drunk people in Russia. Just pretend you didn't hear them and keep riding. Because there are zero chances that they might be useful for you but big chances to get in trouble. I knew this rule but I stopped and had a chat with two local Bashkirian people. Maybe, because I was lacking communication with anyone for the last 36 hours. They offered me a shot and smoke. I refused this. Then they told me that there is a spring in 300 meters. I thanked them and explained that I already filled all my bottles. In the next village I saw another drunk man on the roadside.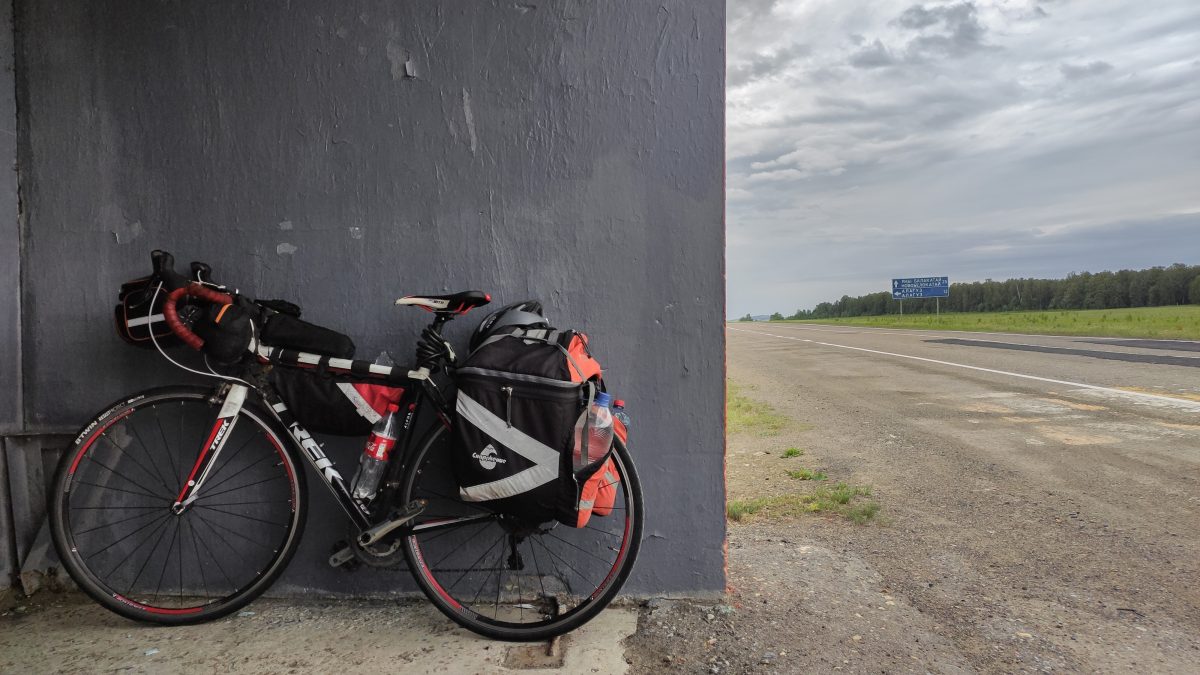 Road changed when I reached the village Novobelokatay. I stopped at the gas station thinking that I could order hot coffee here. But it operated only to fuel the cars. Then I drove on the asphalt road which is good but the weather changed and it was starting to rain. I wore a plastic raincoat to protect myself. Drizzle made me feel sleepy. Unfortunately, there wasn't any shelter or bus stop for a rest. I kept riding as long as possible. Then I gave up and pulled over. I found a small forest where I laid under the pine and tried to sleep for a little. Just for 5 minutes. I recalled that I have buckwheat porridge in my bags. It should be cooked already. So I had lunch while the rain kept drizzling.
The road started ascending after the junction near the village Verkhnie Kigi. That is a sign that I'm closer to the Ural mountains again. I crossed a border between Bashkirya and Chelyabinskaya oblast and rode towards Mezhevoye. But before I stopped in Aylino to buy some soda water. Young people and adults are purchasing beer for Saturday night. I asked a man at the entrance to keep an eye on my bike for 5 minutes while I visited a grocery store. No problem, he replied.
Mezhevoe. A small town on the river called Ai. Yeah, just Ai. This is an incredible place ans starting point for hiking and rafting expeditions. This town is full of small guesthouses and tourist services. Even if you visit Mezhevoe for a short stay you should explore the closest riversides famous for their spectacular view from cliff banks. For the second time I was rewarded by the warm colors of sunset and took some pictures of Ai river. When you leave Mezhevoe you might notice old vertical ceramic kilns that remained on the roadside. This is also an attraction worth shooting.
Time is 20-30 and I decided that it was too late to ride to Satka – another industrial town on my way. I would rather find a place for a night and visit Satka the next morning. I turned from the road to the forest and pitched a tent in pines.
My Garmin was out of charge when I arrived in Mezhevoe therefore I used my smartphone to track the remaining part of my daily ride.
Distance – 135 km.
20 June
Last evening I checked a forecast and found out that wind direction is going to change from the moderate West to strong North. For the wind forecast I use an App Windy – they provide data collected from different sources including local meteo stations, so you can rely on this app. I guess you know that a wind direction is very important for cyclists. You can ride as hard as possible but your performance will be low. I remember the terrible day when I cycled more than 12 hours and did only 60 km. The wind pushed me back and took all my power. Strange, that it has not stopped the flies to keep annoying me.
Ok. Wind is strong but it blows from the North. Which means I have a tailwind today. Sounds optimistic. Before I will reach Satka I have to make the pass Suleya. Not a tough climb, it's just 500-600 meters high. With fresh power I did it quite easily and praised myself for a decision to stop for a night before Satka.
Satka is an industrial city on Ai river producing crude iron for the steel industry. I had plans to visit Satka in Summer 2020 but didn't reach it. This time I want to see the local theme park called 'Sonkina Lagoon'. Usually, oligarchs and owners of factories develop a city by building new shopping centres as another way to increase their profits. But the local rich guy created a huge theme park (sure, with a shopping center inside) where adults and kids and visitors could have fun in the pirates temples and attractions. This park contains two parts – one is located on the river shore and the second one is a pirate island in the middle of the river. Just buy an entrance ticket and you can see both. I arrived too early to visit the park so I just took some pictures of the park and factory across the street. My next destination is Zlatoust and I don't know how to reach it unless I ride on the M5 highway in the busiest part.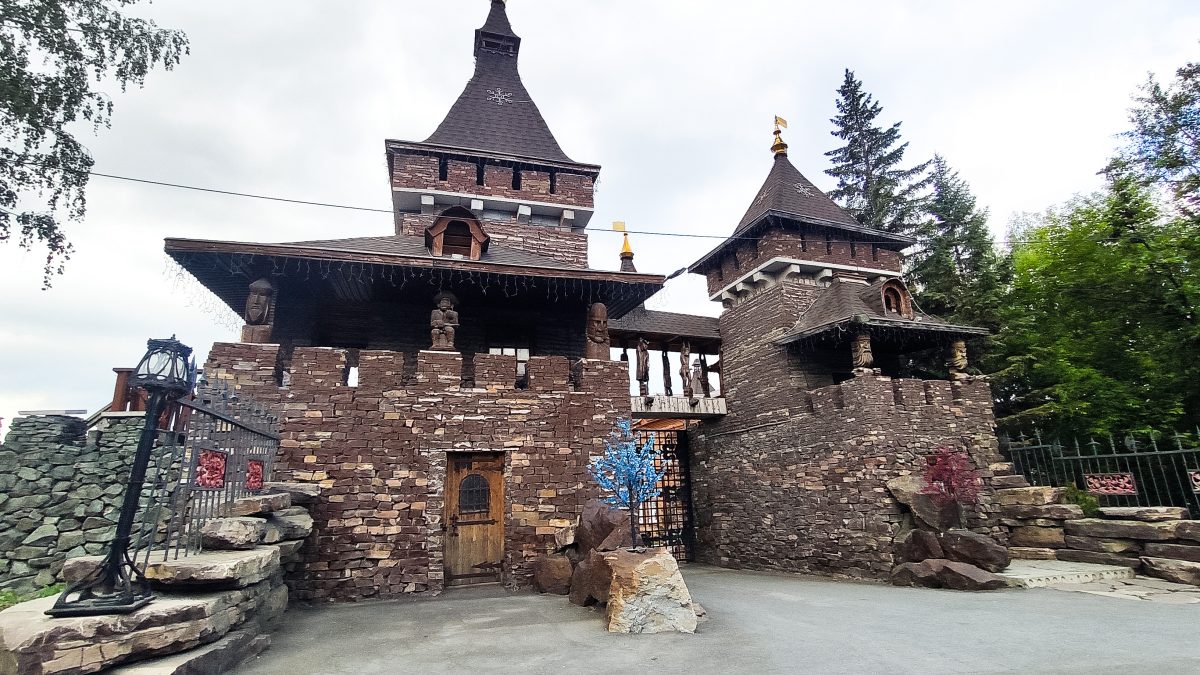 M5 is the main transport link connecting Central Russia and Siberia. Here in the Ural mountains is the busiest part of this highway. Day and night hundreds of trucks ride in both directions through mountains. The shoulder is full of metal parts and broken tyres. I would never recommend riding this section of M5 , especially in the rain or in the winter. But I didn't know any alternatives and all the locals told me that the only way is M5. I have to ride 18 km before I can turn to Kuvashi on the secondary road with lower traffic to Zlatoust. And I planned to make it as early as possible before all truck drivers enter the road.
Currently, when I'm writing this report I already know the cut from Satka to Kuvashi. There is a forest road along the railway. I never cycled there but I saw that some Strava riders used this road on their commuting.
I wore a helmet, gloves and entered the highway. I don't remember exactly how I rode. I pushed as fast as possible for 18 km without a single stop. Happily, I didn't have any steep climbs on this section. On the final meters I saw the road cafe and decided to stay for breakfast.
This cafe works as a self-service bistro offering hot dishes, salads, drinks, tea and sandwiches. I ordered soup and salad and spent the next 20 minutes looking out the window and enjoyed breakfast. Behind me TV created noise showing a criminal show. I tried not to let this shit get into my mind.
From Kuvashi I continued my ride to Medvedevka where I crossed a railway twice (strange logistic) and then led to Zlatoust. Last summer I visited this city from the South. Now I have a chance to ride through the city. Zlatoust is located in an incredible and scenic place surrounded by mountains. River Ai is extended after the factory dam. Cycling in Zlatoust is a challenge because it is quite a hilly city and you should climb and descend. The first hill I climbed was on street Chernishevskogo. Once I reached the top I found a shop to buy cold soda. Despite the fact that Zlatoust is located in a beautiful place I wouldn't describe this as an interesting city. Many tourists use this city as a starting point to tour in Taganai National Park. Taganai Park is huge and combines several mountain peaks. That's worth a visit. So why not modernize Zlatoust? Overall it's a regular Russian town with mixed architecture. Five-story buildings in the center surrounded by country houses. What I liked is a huge park that lasted along the tram line.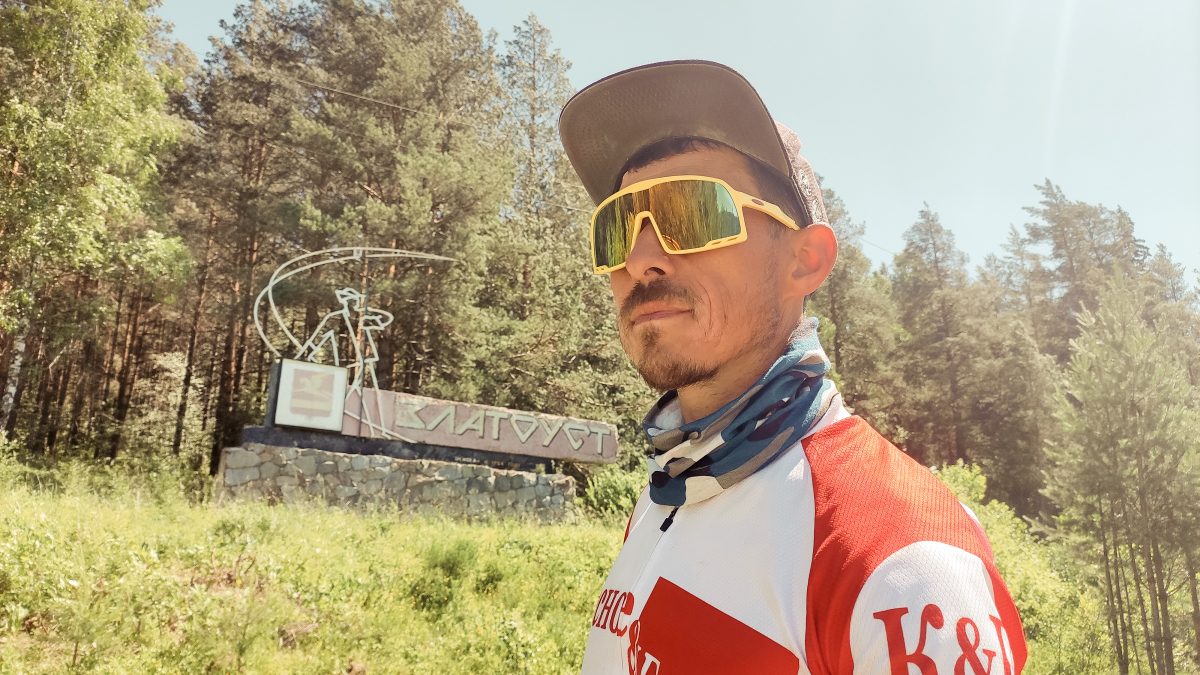 This time I entered the city from the North and I had to find a path to the South. While I was looking at the map on a smartphone a man on a bike stopped and offered me help. A man, around 60 years old on a folding bike.
– I'm looking for an exit to Miass. Am I riding in the right direction?
– I'm going the same way and can guide you till Tarelka (A huge shopping center on the other side of town).
-Thanks. That will be awesome.
He jumped on the bike and started riding very fast. I barely kept the pace riding behind him. Vladimir, another cyclist Vladimir showed me an alternative road aside from the main street. We hadn't stopped at any traffic light and after 15 minutes were at the beginning of park road. He had asked me about bicycles. What brand I can suggest to him? I said that the geometry and fitting always go first, secondary to consider is the weight of the bike and then gothe components. Brand is not important. Anything he could find on the Russian craigslist Avito.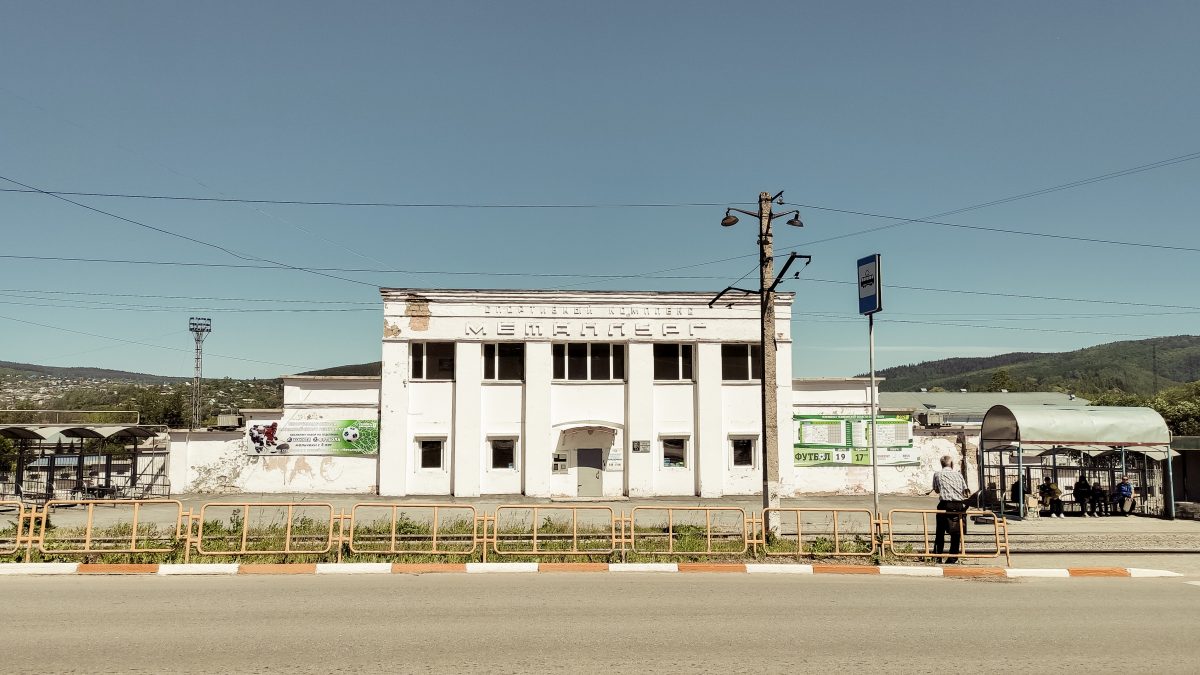 When we reached Tarelka shopping centre he offered to make a loop around a small lake. On the sunny day the locals were laying on the grass, tanning, cooking barbecue and doing sports. Despite the 'Don't swim' , few people enjoyed swimming in the pond.
I thanked Vladimir for a wonderful ride and turned to Griboedova street that leads to Miass highway. Riding in the suburban part of the city I noticed a public potable water source. People were waiting in line with the buckets but they let me go first to refill a bottle.
All roads from Zlatoust are sharp climbs and I had to push the bike up to the hill on a low transmission set. There are two ways to get into Miass. The main road is challenging and always goes up and down. But an alternative way is descending for 10 km and the only one small climb is just before entering Miass. Another benefit is low traffic. I chose a light version to enjoy a smooth ride with only one stop in small village Syrostan at the same cafe-guesthouse where I spent the night in July 2020. I made a small stop to drink a cup of coffee and with a fresh energy continued my cycling to Miass.
As I was still feeling coffee's influence I took a quick glance at the map on my smartphone. I saw a long street through the city with a small turn on a bridge over the railway. Therefore I decided to stick to this direction in the city traffic. I felt a supporting push of tailwind and rode through all intersections without stops by catching a green light stage on each one. Only after I passed through the suburbia area I stopped at the local shop to buy some yogurt and bread for a small snack.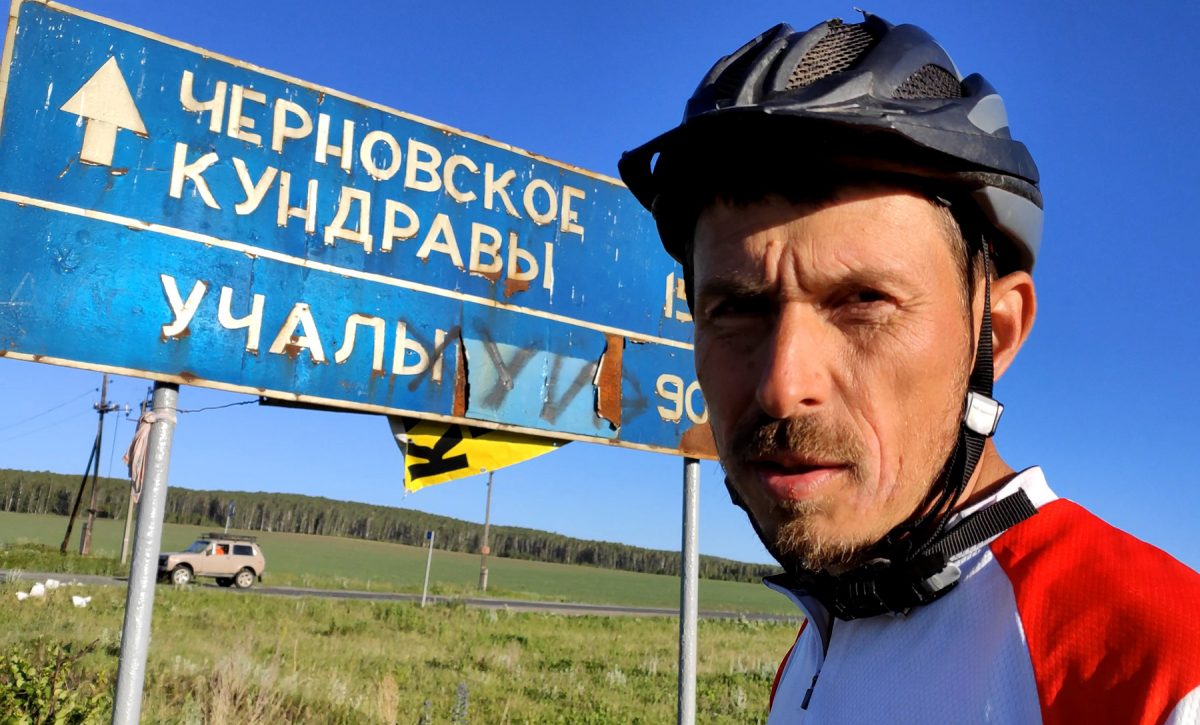 The wind is getting stronger. My cousin asked me in messenger how do I plan to ride in Magnitogorsk – via Uiskoe or Uchali and prevented me from riding via Uyskoe because the wind is crazy there, in the open space. Anyway, I planned to cycle to Uchali. Because the road surface is better and it is closer to the mountains, so I can expect to see beautiful views instead of boring fields. One more advantage is that mobile coverage is better on the road via Uchali.

When I stayed at the intersection I spotted grey smog above the forest coming from the west. Looks like we have a wildfire. That's not good and I got frightened but began to look into their website to see if there is any possible way to prevent this from spreading. To stay alone in the forest next night when a wildfire moving towards you is not the adventure that I have expected. 
I continued my extra speed ride with help from the tailwind. I kept looking behind me to observe a situation with grey smog. I remember that for one moment I started feeling a burning smell but it lasted only for 10 minutes. As I was moving closer to the mountains then less I saw smog. I assume it was localized or moved in another direction.
Local time is around 9pm and that means I have to think about a place for a night. But before I stopped at the small cafe in the middle of the intersection not far from the village Karimovo. Inside the wooden house I found two groups of truck drivers who occupied two big tables. I sat at the third one and plugged in my phone for charging. There was a menu but I ordered something that was already cooked. I was rewarded with a plate of manty that I ate very quickly because I didn't have a normal lunch today and was hungry. Then I decided to charge the phone a little bit longer and ordered a cup of coffee. Yes. Today is coffee day.
When I finished and went outside I had a small chat with one of the truck drivers.
– Travelling alone?
– Yes.
– Are you not afraid of wild animals? Bears? Do you have a rifle or knife?
– No. I don't need it.
Same moment I started to be afraid of this man. Why did he ask me about weapons? I have to leave this place without any trace.
Nobody followed me. I kept riding towards Uchali even after sunset. The skies were bright enough. You might know these bright nights in the middle of Summer. After tomorrow is the longest day of the year. I was looking for a good spot for a tent and I wanted to pitch it in the pine forest. On both sides of the road I saw only birches.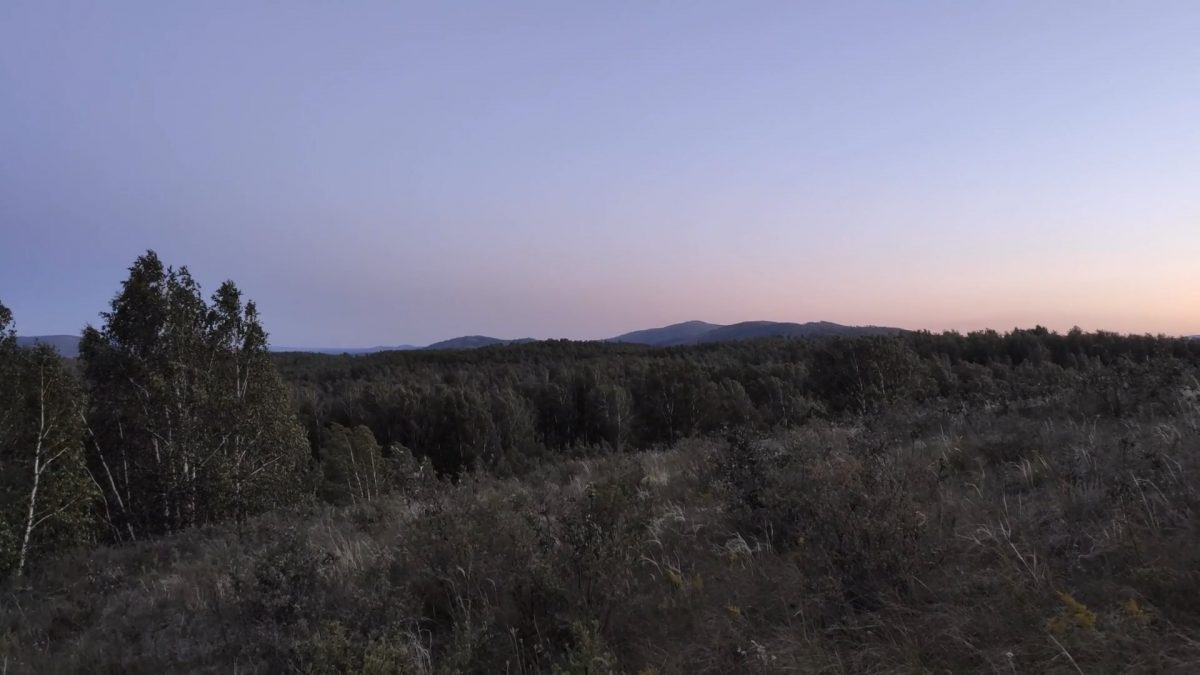 I received a call from my dad. He thought that I was already sleeping but I told him that I still kept riding. Next 5 km I should ride through two big villages and no one can guarantee that I can find a good spot behind them. Therefore I decided to set my tent on the hill. When you stay on the hill you can observe a territory in miles around but you stay invisible from the road.
The wind is still strong so it will be the crush test for my tent tonight. I found a lot of berries on the hill and enjoyed it with hot tea.
I did 185 km today.
21 June
The wind calmed down the next morning. Clear skies above mean that it is going to be a hot day. If everything is going to be ok I will be in Magnitogorsk today. I drank coffee and ate the leftovers of bread I bought in Mezhevoe. That was my breakfast.
I kept cycling in Bashkira. About 30 kilometers to Uchali and I feel fine. Nice road, minimal traffic and cows are going to their daily graze.
From the last summer trip I remember that the last 15 kilometres to Uchali the surface is becoming terrible. Seems like nothing has changed from last year. Asphalt on the road shoulder wrinkled under the hot sun and for me it's impossible to keep the balance on the edge. I have to share the road with vehicles.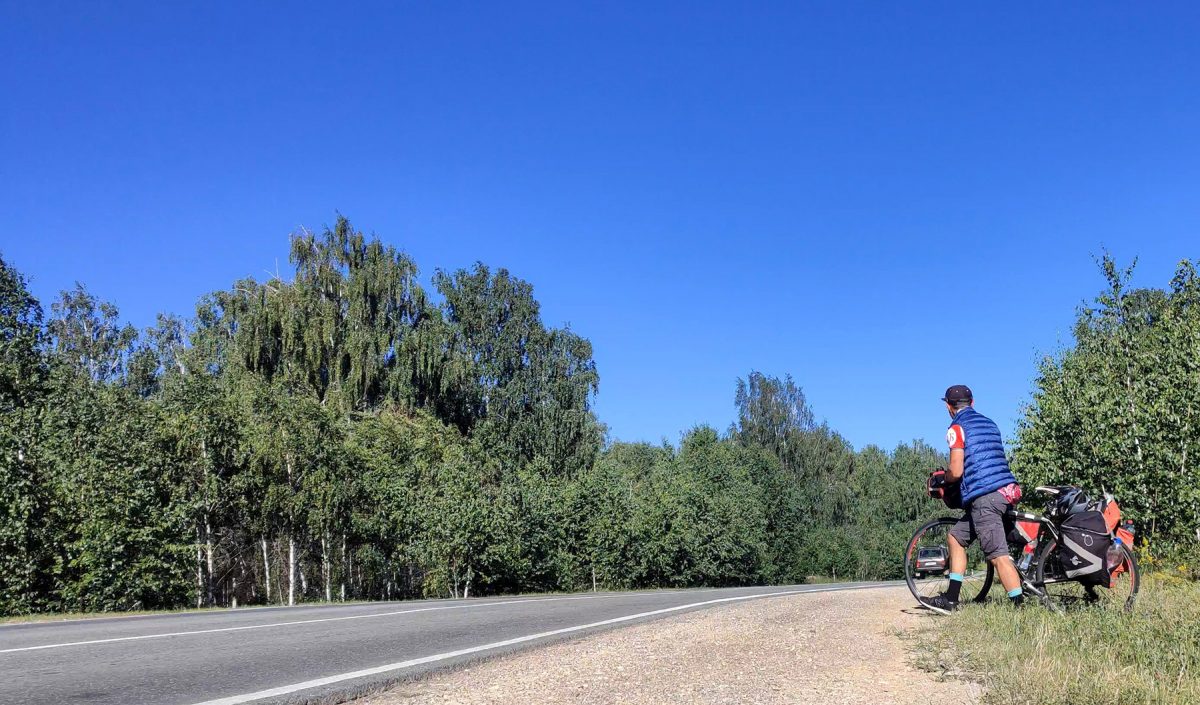 Soon I arrived in Uchali. Here I planned to meet the local cyclist Kirill who I'm following on Strava. I want to ask him how they managed to ride in the mountains and just chat a little about everything. I sent him a message this morning and he has accepted our meeting.
Waiting on the main square I realized that I'm in the wrong place. I hadn't known before this moment that there is a village Uchali and town Uchali in 10 kilometers between each other. Kirill was waiting for me in the town while I was chilling in the village with the same name. I jumped back in the saddle and rode around a huge lake followed by an industrial area and finally arrived in Uchali town. We met with Kirill in the central park and had a chat about the cycling movement in his town. I was curious if it is possible to make a ride to the top of Iremel mountain from Uchali and he assured me that it is not a problem to make a trip to the mountain and back in one day. Kirill showed his interest in biketouring and he observed my bike and racks and how I packed it together. We talked about useful travel apps and maps. He mentioned that he and the local team are planning a two days journey to the Nurali mountains. I had to tell him that I saw a wildfire in that area while I was riding the day before.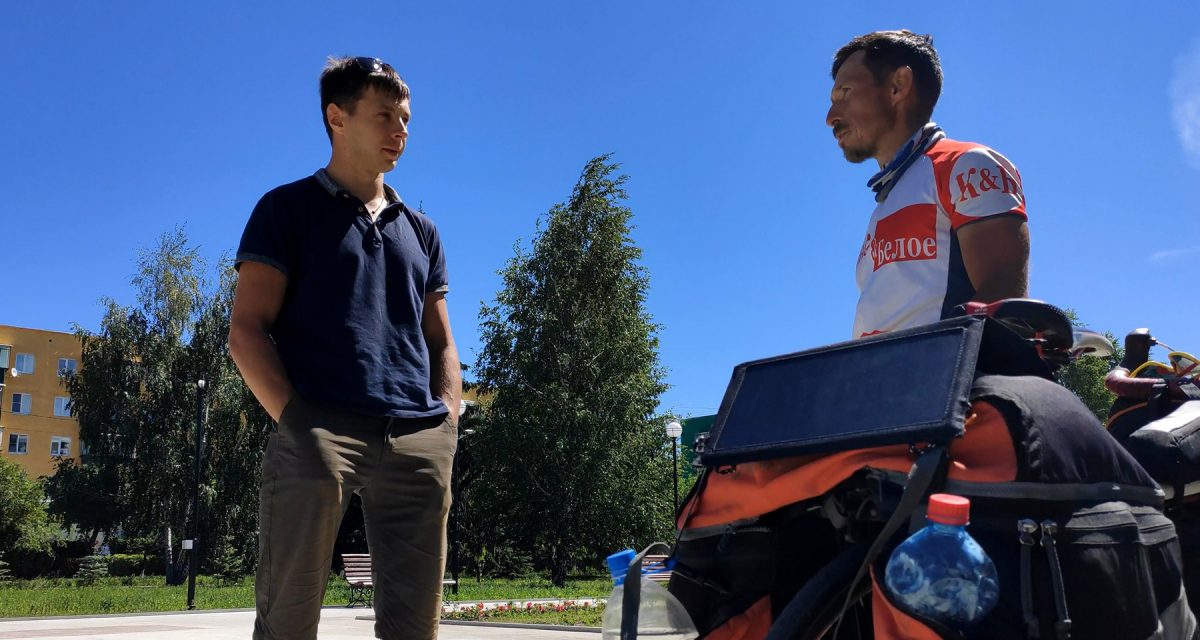 I followed a recommendation from Kirill to taste a giros at food track close to Autovokzal. I can't say that I liked giros and they served it quite slow. Anyway, I felt full and ready to continue my ride. Near the village Mezhozernoe I discovered a mine tower – the same as I saw when I was riding Severouralsk. After Uchali the road condition is almost perfect with the freshly maintained segments. I visited Verkhneuralsk just to buy cold soda and ice cream. This town was founded in 1734 and is the oldest in the Chelyabinsk region.
I've been cycling along the Ural mountains already for ten days. The river after which this mountain ridge was named – Ural is beginning only in the South Ural in 30-40 kilometers from Uchali. Now I'm riding along the Ural river. Close to Magnitogorsk there is a huge dam so the river is extending here. But after Magnitogorsk the flow is not wider than 4-5 meters.
This is the first time I am arriving in Magnitogorsk on a bicycle from the North. I can't call this part of the city a beautiful one but it might be the most interesting if you want to feel the greatness of the steel plant. The city is divided by the Ural river where the steel plant is located on the left bank and all the life and citizen homes are on the right bank. I passed the factory of the oxigen steelmaking where I had used to work back in 2000. I stopped to see how huge orange clouds flew away through the roof during a technology process. In a perfect case scenario it should be caught by the cleaning system if it was modernized but it is outdated and I am afraid there are no plans to maintain it because of extra costs.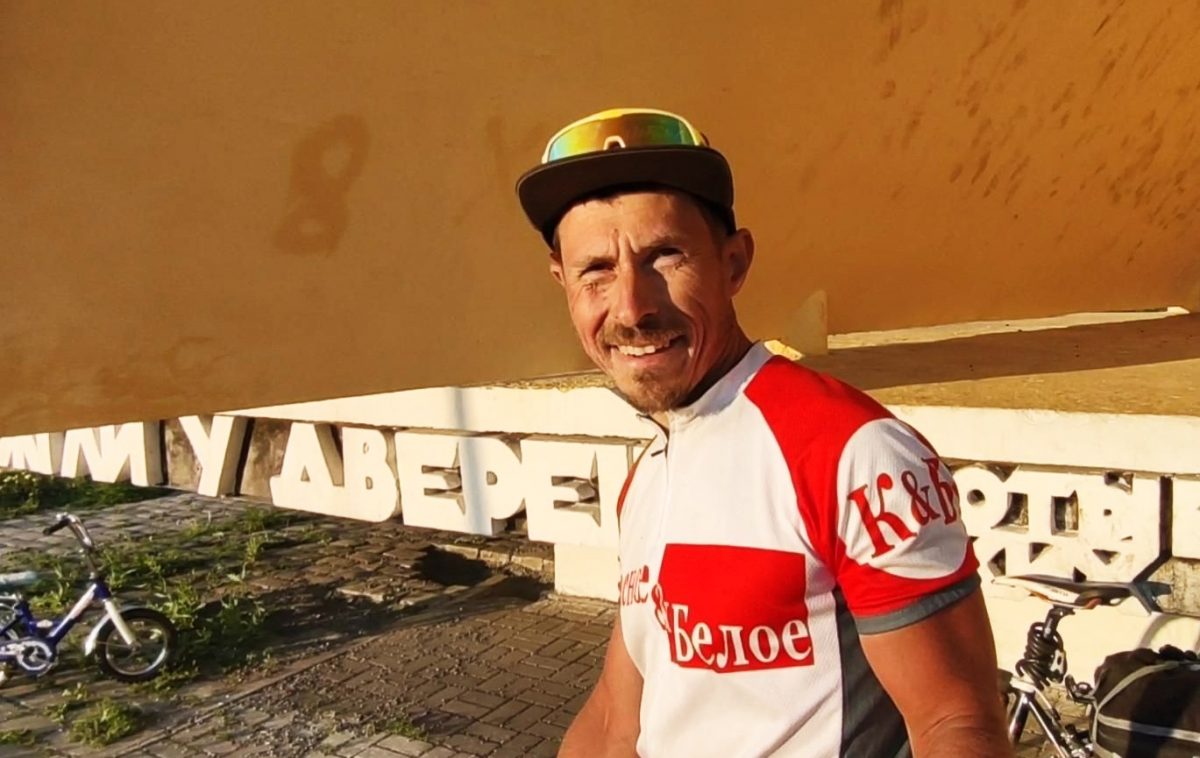 I crossed the bridge over the Ural river to the right bank and continued riding to the city center. Then I took pictures of a statue of the First Tent dedicated to the first builders of our town that arrived here in 1929 and used to live in the tents. I have to ride one more kilometer to my home. Mama, Dad and nephew already stayed in front of the door waiting for my arrival. The second part of my journey is completed. 1200 km behind me. Its time to have a rest. Sauna, dinner and soft bed.
Total distance for today 177 km.

22-23 June
Despite having a rest day I woke up early and started pedaling again. Why? Because I want to see my wife and daughter. But where are they?
Every summer we book a house 40 km from Magnitogorsk. This is a place surrounded by lakes and mountains and is the favourite resort of Magnitogorsk residents. I want to get there as early as possible to avoid hot weather and strong wind. To be honest, the main reason was that I wanted to meet my loved ones.
Another crossing of a border between Chelyabinsk oblast and Bashkortostan. Then I pedalled via lakes and small villages before arriving at Yakti-Kul. This is a Bashkirian name for Bannoe Lake.
Xenia was running when I came there. I didn't waste time and cooked pancakes for a family breakfast. After breakfast I offered Xenia to make another run to the mountain top. It's a good challenge for the morning training with a return way on the ski lift. It operates daily even in the summer.
After the mountains we cycled to Lake Chebachye (11 km) on our bikes with Maya in the child seat. Here we rented the paddle boat and spent our time drifting on the lake and building stone castles on the shore. At 2 pm the sun was very strong therefore we decided to hide in the shadows. Only close to evening when the weather was mild we did another small hike to the mountains where we did a small barbeque.
Next day we explored the closest forest with the kids. To continue for the final part of my adventure we decided to leave Maya, 4 yo with my parents. For that I made a tour to the city and back. Same time Xenia prepared both our bikes for a new journey. Yes. We decided to spend these 3 days together. When I return to the house I should only inflate the tyres and pack the equipment in the bags.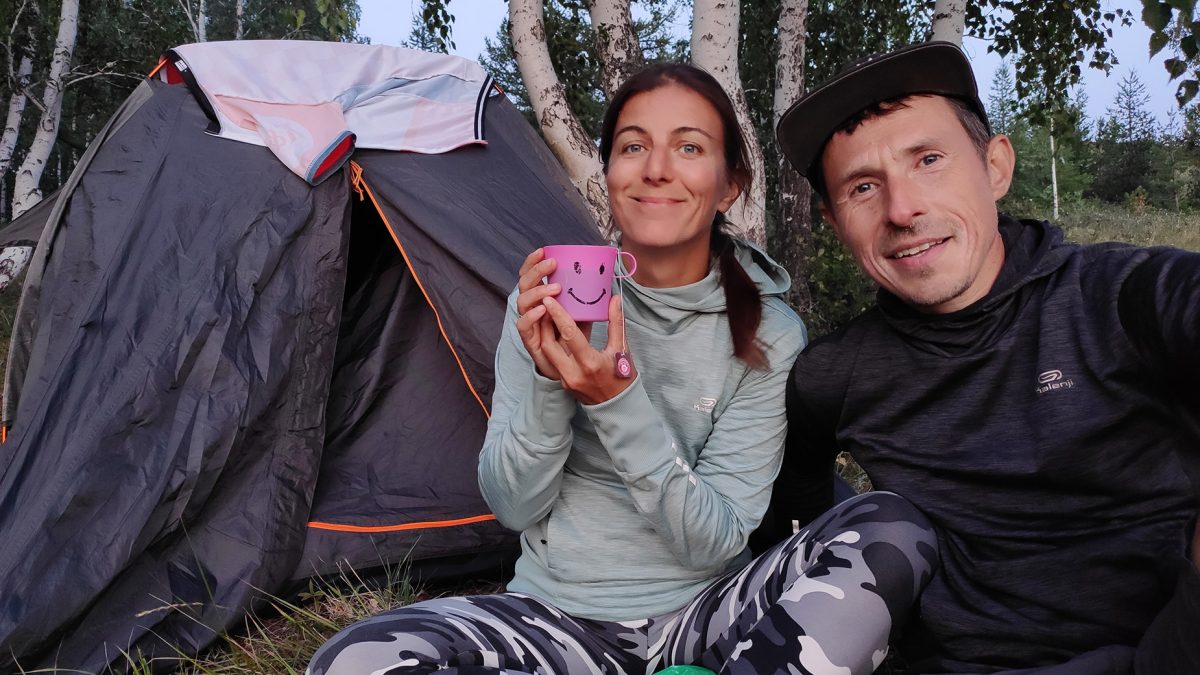 First 20 kilometers we pedalled against the traffic. People went to the lakes after a warm day in the city. Only after turning off the main road we were enjoying the countryside ride towards the sunset. We started quite late at 5-30 pm. We were in Askarovo village before all local shops closed and were lucky to have some cola and ice creams. We could ride more even after the sunset like I did before Uchali. But I didn't have plans to torture Xenia with an extreme night cycling. I spotted a road leading to the hills where we could hide from people's eyes and have an incredible view of the surrounding fields. It took time to ride both our bikes on the top of the hill. We set up the tent and spent this evening with a cup of hot tea.
24 June
Next morning we kept cycling to the South. Our brave plan is to reach Muradim Canyon which is 250 kilometres from us. It might be possible if we ride on paved roads only but we have to shortcut it through the mountains. So far so good and we are cycling on the almost empty road in the Baymak region of Bashkortostan. We stopped to gather wild raspberries that grow just on the hillsides close to the road. We refilled bottles with water in the spring closer to the village Kirdas. The next stop we planned for lunch was in the big village Temyasovo.
20 kilometers to Temyasovo I started feeling the smell of burning. I had no idea when it would come and checked on the website of the regional emergency services. Chelyabinsk regions reported that there are fires in the villages of Djabik and Aninskoe. Bashkirian services claimed that the fires were on the neighboring territory. Considering the strong wind that was blowing previous days it might bring the smell from miles away. Anyway, it's better to find out the fire situation before entering remote areas without mobile coverage.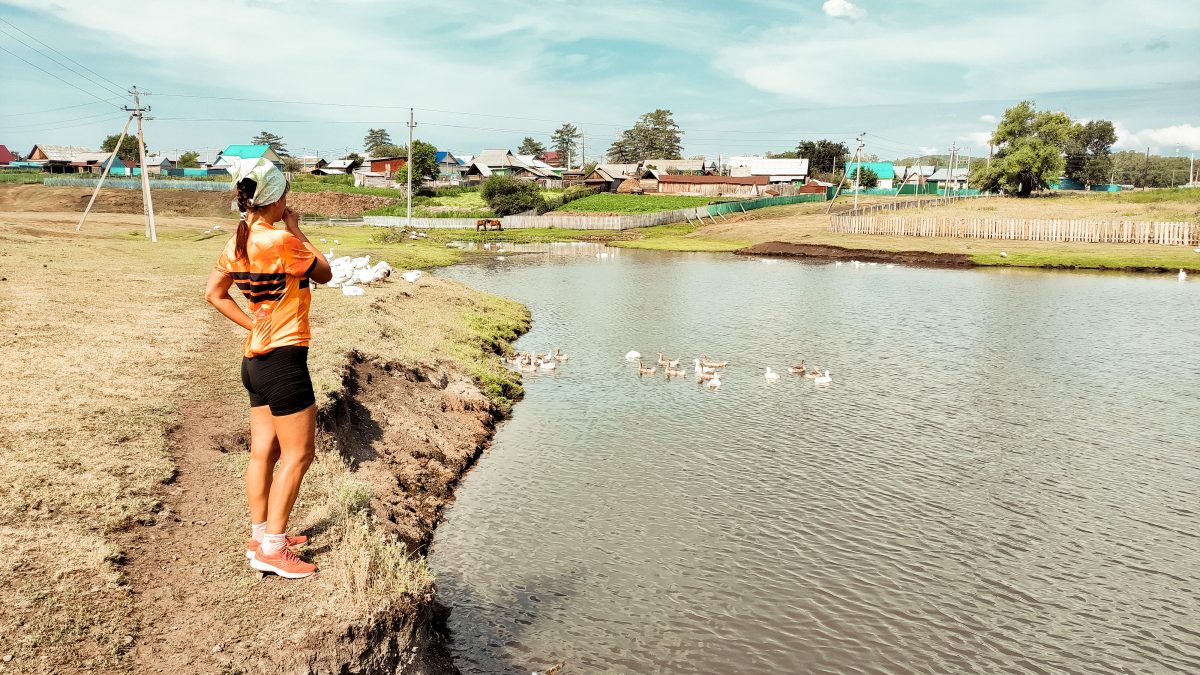 In Temyasovo skies were clean without any sign of fires. We found a cafe and ordered soups and tea with milk. We are drinking in bashkirian style. Woman at the desk told us that there wasn't any case of wildfire recently but she tried to go through the mountain on the dusty gravel road.
It's a bumpy road. We used to ride there last year. Even in the car I felt shaky.
And be aware of wild animals. Wolves and bears roam there. And you can't even make a call because there isn't a cellphone service there.
I heard such stories from bashkirian people as long as I remember my first hike in the forest. They always liked scary white people and tourists. When I was shopping for water and apples another man tried to scare Xenia with bear stories.
We left Temyasove behind and started our ride on a gravel road. Cars are passing us by and cover us in dust. I have to hide my nose and mouse under the buff. After 5 kilometers the traffic slowed down, just few vehicles in an hour. We were cycling under the hot sun and we made many stops for rest. We ate berries that grow here along the road. After 15 km we arrived in the small village Beterya. We sat by the stream with our legs laying in cold water.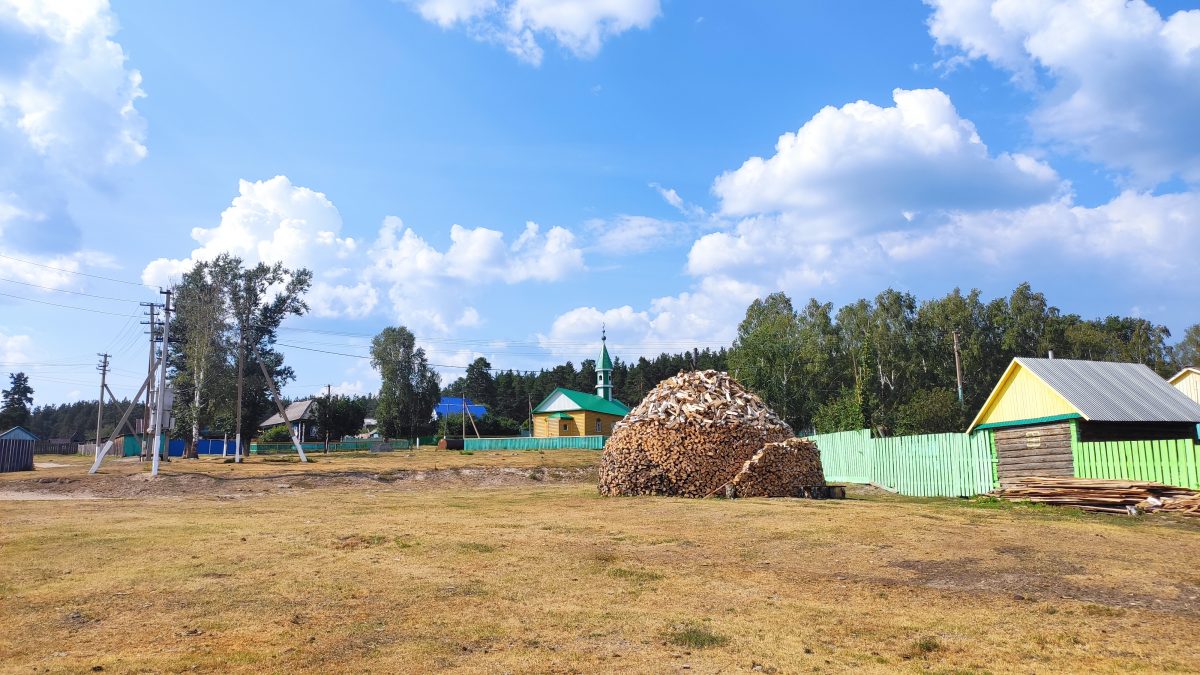 After Beterya it is highly important to choose the right way on the intersection. We turned right and the road started climbing gradually. In case you've missed a turn and gone in the straight direction you'll get to Kanonikolskoe and then you have chances to get stuck on a dirt road between Berezovka and Kanonikolskoe. Suitable for niners and mountain bikes with wide tyres. But you'll be rewarded when you arrive at Muradym Canyon.
We turned right because we decided to cycle to Starosubhangulovo (Burzyan). After two or three not high climbs we stopped at the lumberjack base. They cut trees here during the summer season and build wooden houses. There were several blanks. We didn't meet any people but only the cat with small kittens. We fed her with our sausages and eggs. She ate everything. I tried to feed the kittens but they hid under the floor.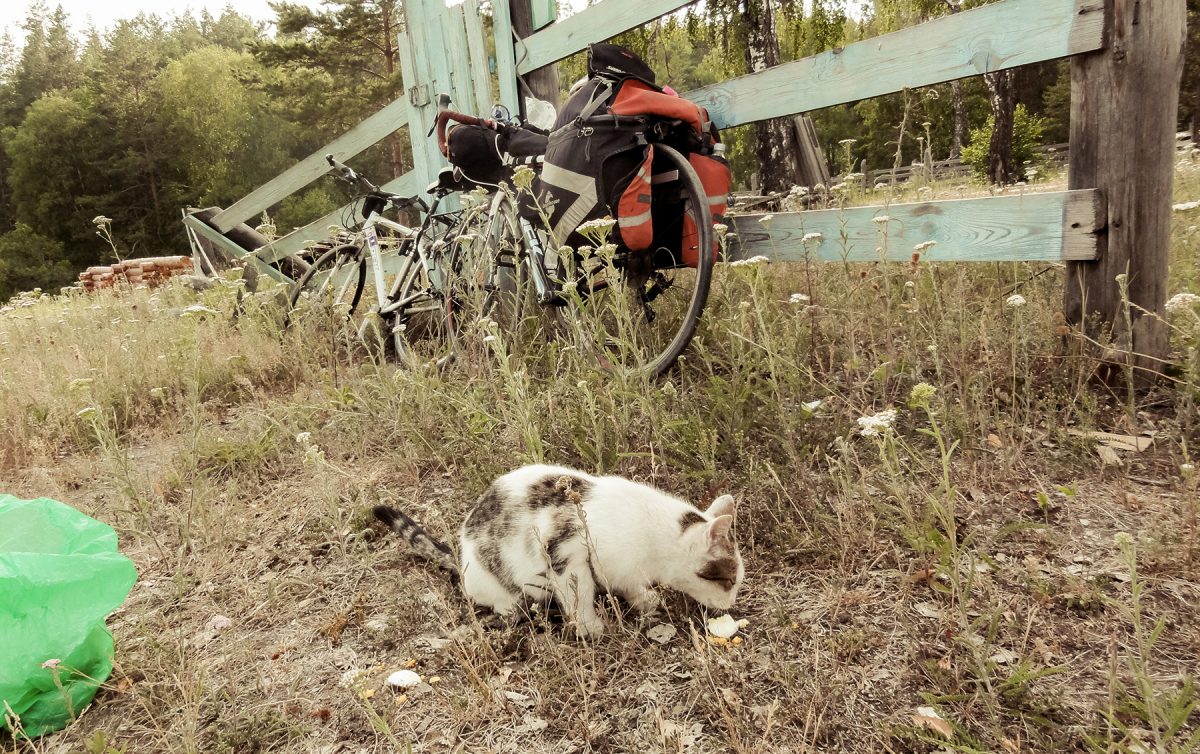 After 5-6 kilometers we reached the pass and pedalled on the top. Hillsides were from both sides of the road. Power poles appeared on one side of the road and lasted for 2-3 km before it went in a different direction. Here we met the only living soul – a kid shepherd. He led the horses and when he spotted us immediately galoped towards us. That was a boy -13-14 years old. He asked us where we are going and how do you sleep? He told us that Burzyan left another 19 km to ride.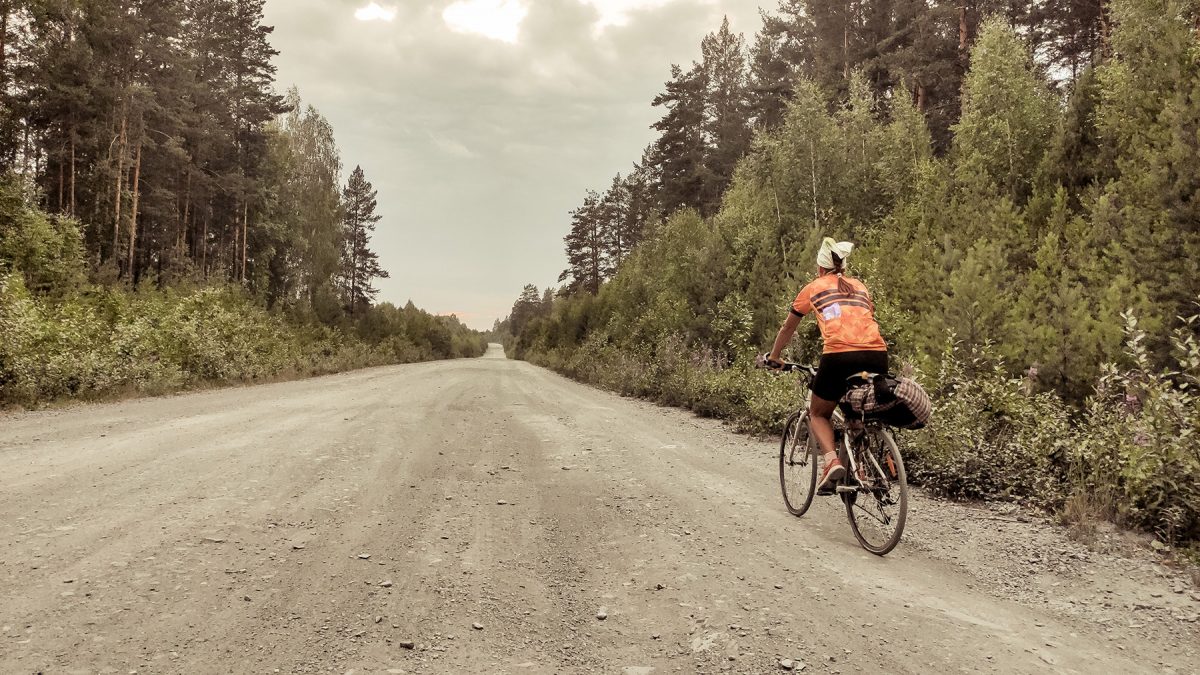 Soon the road went downhill. First 3-4km it slightly declines and then transforms to sharp downhill. We cycled down the road with care holding both brakes. I was glad that we hadn't traveled in the opposite direction. Finally, we reached the river and cleaned our legs and hands. All open parts were covered with dust. Then we spent 10-15 minutes finding a good place for the night. I thought to set a tent on top but all the hills around us were very sharp. We walked till the river turn and found a big meadow 100 meters from the river.
After a hot day the rain fell from the skies that night. In the middle of the night I found myself lying in water. I found all my electronics that were charging and put them in a dry space between me and Xenia.
The whole journey from Yakti-Kul to Burzyan 158 km.
Next morning we spent some hours drying our sleeping bags and tent. What else to do on such a bright and sunny morning? Only drink coffee and wait for your clothes to dry. Soon, we returned back to the road to cover the final 10 km to Subhangulovo. Downhill continued till the village. We let some loaded trucks overtake us and were waiting for 5 minutes until the dust settled.
Starosubkhangulovo (short name Burzyan) located in the beautiful place on the river Agidel (Belaya) surrounded by mountains. There is only one paved road connecting this big village with the world is the road to Beloretsk. All other ones are forest or gravel roads. We noticed several groups of tourists that were preparing to set sail for a rafting adventure. They inflated their boats and rafts on the river shores.
This evening we planned to return home. It was our first time we left our daughter Maya and we didn't want to extend it for another night. I made a call to our driver to Magnitogorsk pick up here and drive back home. It will take him more than 4-5 hours to reach such a distant village. We decided not to waste time and I started searching for possible options to visit Shulgan Tash cave (Kapova Cave). This cave is famous for ancient rock paintings that were discovered on the walls and date to the Upper Paleolithic era. There were no chances for us to make a ride to the caves and back in 4-5 hours so we hired a local taxi man that would bring us to the cave, wait there for 2-2.5 hours and bring us back. He also offered to leave our bikes inside this house.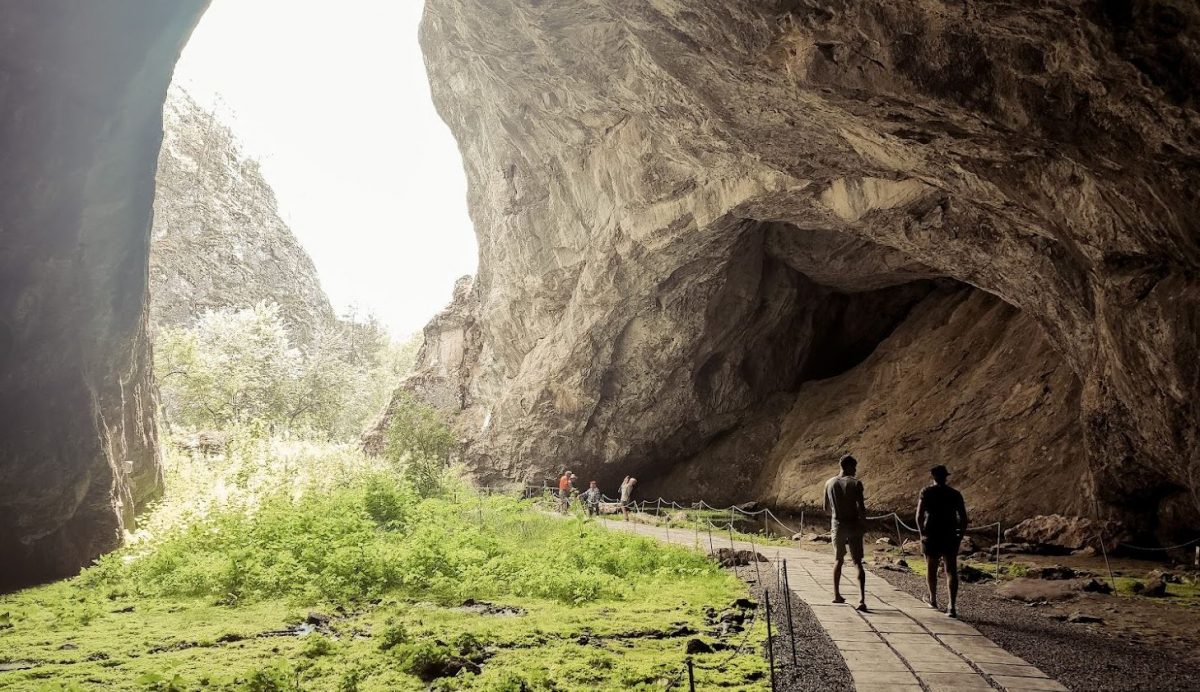 Cave is worth seeing but avoid visiting it on weekends. We didn't wait long in cue at the ticket desk. Then you have to pass through the national park about 2 kilometers to the cave. Here you can be stuck in cue for more than an hour. Cave staff groups all visitors by 15-20 persons to avoid crowds. You should ask to add your name in the list and then wait while you'll be welcomed to join the next group. It took more than an hour so we rushed on our walk back to the gates where the taxi driver kept waiting for us.
We returned to Belaya river where Xenia cooked a small dinner while I was dismantling our bikes for transportation. We wade through the river to explore a beautiful hill on the opposite side and I took an incredible picture from the top.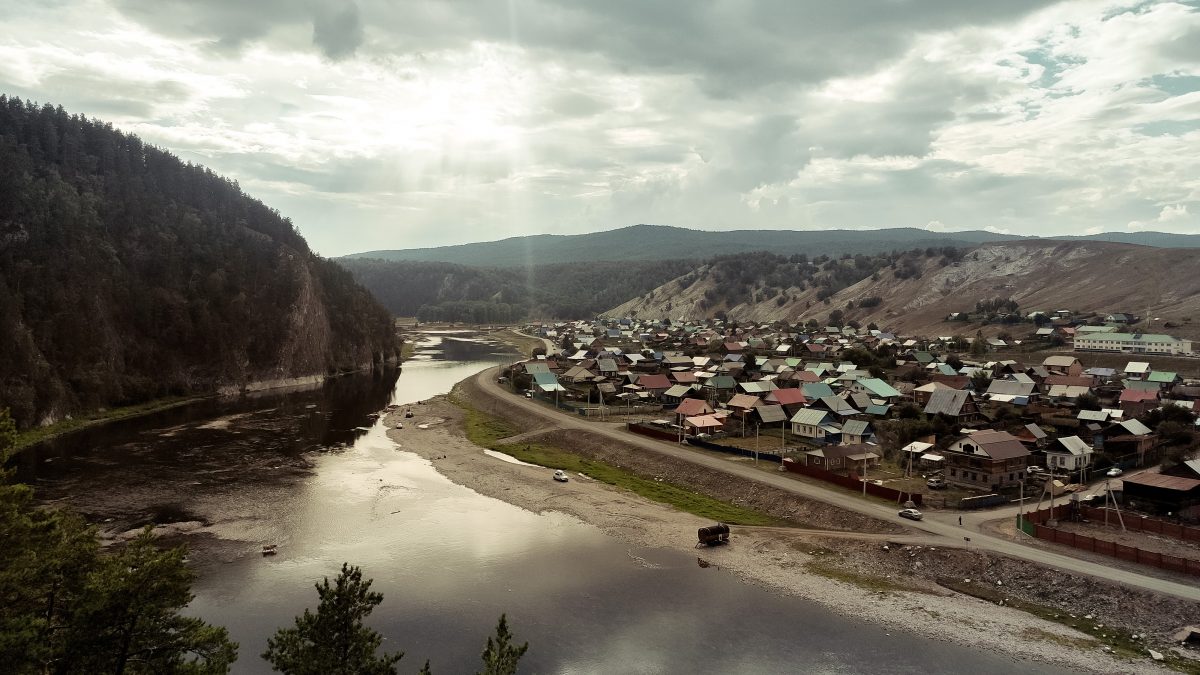 Our driver arrived at 8 pm. Once we left the village the rain started but we were already inside the car. We returned back to Magnitogorsk late at night around 11pm but the girls were still playing. Not much today but we felt tired so we had tea and fell asleep.
Tomorrow I have to fly back to Moscow and return to the office. During 14 days I covered a distance of 1400 km. Unfortunately, I tried to cover as much as possible to the detriment of exploring the attractions. I didn't make any hike to the mountains except one on the rest day.
I highly recommend exploring the area around the Chusovaya river between Nizhniy Tagil – Sulem and Ekaterinburg. South Ural is a rich area of attractions – maybe a good strategy is to settle at Zlatoust and do the local hiking travels to the mountains.
Equipment for Summer Bike trip
My baggage for 2 weeks summer trip (from left to right, top to bottom):
t-shirt, cycling jersey, spare underwear, spare socks, warm leggings, helmet, compact pump, multi tool, rear light, Garmin 510, patches, WD-40, oil, spare tube 700×25, cargo shorts, light pants, glasses, spare breaks, soap, knife, gas, blazer, buff, gloves, smartphone, extra battery 2000mAh, compact camera (rarely used), fixing bands, tripod (selfie stick), stove, inflate pad, charger for camera, camera holder on the chest, cooking pot and cup, tent, sleeping bag, solar panel, medicine kit.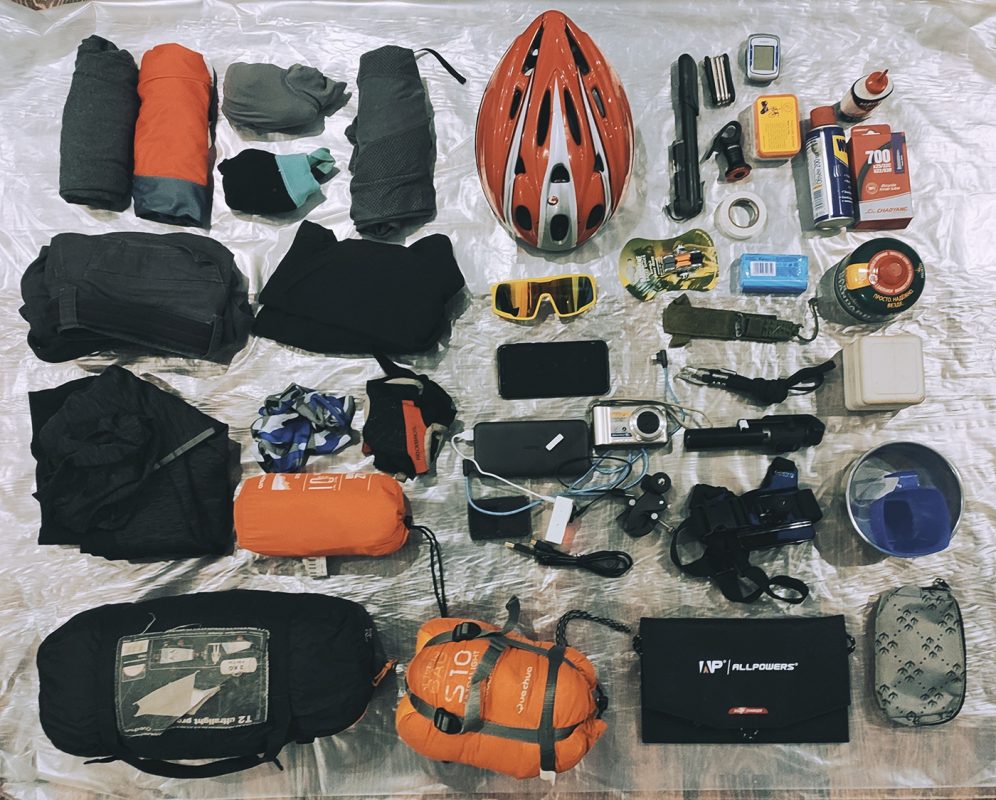 Hope you enjoyed this reading. Any questions and feedbacks are welcome.