This year I switched from hybrid bike to road bike with drop bars. I was curious and looking for new experiences. Drop bar for me is a symbol of profi cyclist. If all profies are cycling on such equipment I guess should be benefits in road bike. Occasionaly, I was lucky to buy a discounted but new one Trek One 1.2. It cost 60% from total price. The only one problem was is there are no eyelets on frame to attach the rear rack. I spent half summer to practise cycling road bike and then decided that I should solve this problem with rear rack. If you have at least holes for lower mounting on frame so that not a big deal. I will try to explain how to do this.
At first, I started to explore the internet in order to buy the seat clamp with eyelets. It's possible, but not in Russia. Even in Dubai I've asked some local bike shops do they have a modified seat clamp. Not available.
The cost of cheapest part is $ 12-13 only. But with cost of delivery to Russia it's becomiong more expensive. It alsoo means that I should remove original Bontrager part to replace this with the noname clamp from Amazon.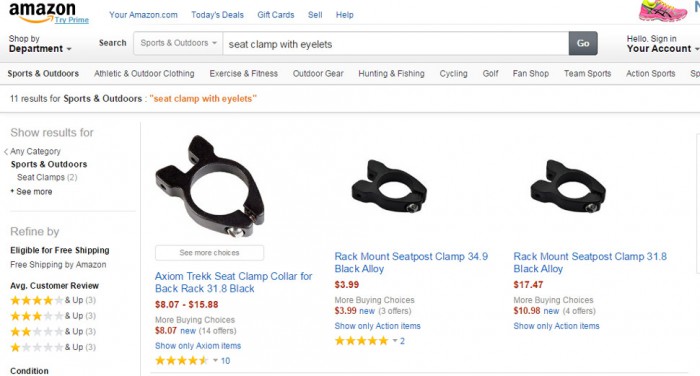 One day I was surfing internet without a goal and was reading about light traveling. On one of blog I exploring I have seen a picture of small rear rack. One traveller cut the half of rack to save weight, but what I was interesting I did see any part that mount rack to frame. Sure, there were bottom mount with bolts, but this guy also doesn't have a special holes for rack under the seat.
I spent half an hour on his blog, starring on every picture and finally I saw where the rack mounting to frame. His used the same hole where rear brakes mounted. And he used a usual metal plate which included to every rack in bike shop.
So as I said before it's not a big deal to attach rear rack to the road bike. I 've dismantled the rear rack from my old hybrid Trek 7.3FX and preparing to attach it to my new bike.
First of all I found a plate in my magic box with different bike parts and accesories. I used two different ones for attaching from sides of frame. Now I mounted it to same bolt along with rear brakes. Looks like a reliable construction.
Then you doing a usual way by attaching rack to lower mounting. I met some problem with bolts. These holes were smaller than bolts diameter. The problem was in painting. This bike new and frame thick painted. So I used more power to tight the bolt. But the next time it should works easier.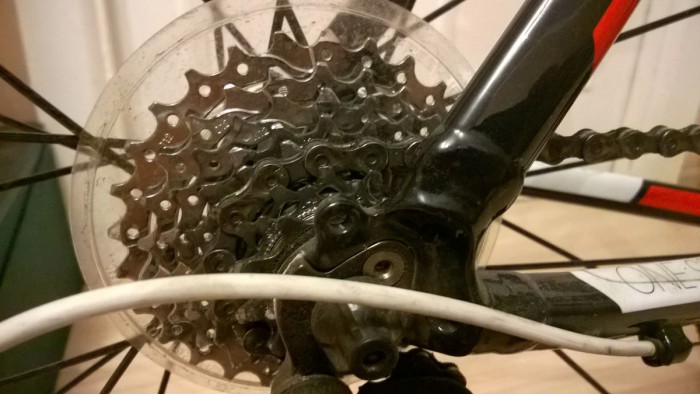 Finally I have connected frame with metal plate and tested how my baggage fit on rack. Now I can use my road bike for long travelling. But I can't carry a lot of stuff because of lower base on 700×23 wheels.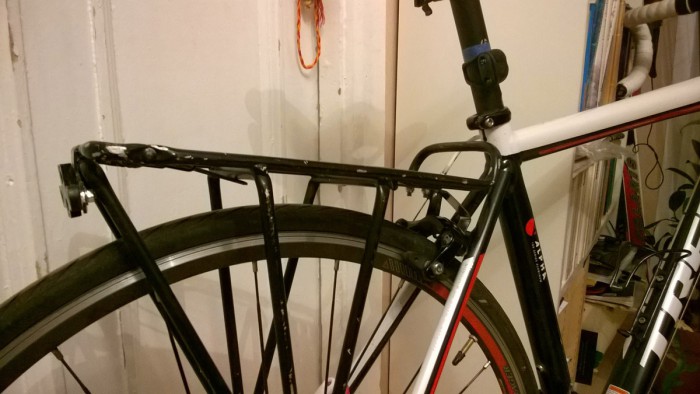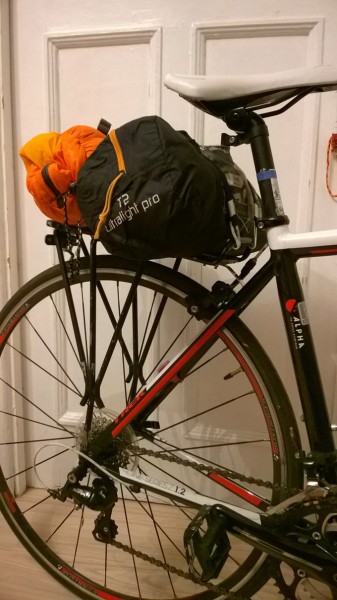 For worst scenario when you don't have a holes on frame neither on top or on dropouts, so you can use special clamps to attach rack to the frame. It looks like on picture and these clamps also have been included to my rear rack package. I just didn't know for what these parts need before this day.