I cycled another 12km to Eucla – a small city. But it is on map only because they have a police station and a telegraph. A restaurant on a gas station offered less food than the Border Village. I used this place to make a call to Ivan and report to him that I'm ok and now continue my travel in the West.
(rus) читать эту статью на русском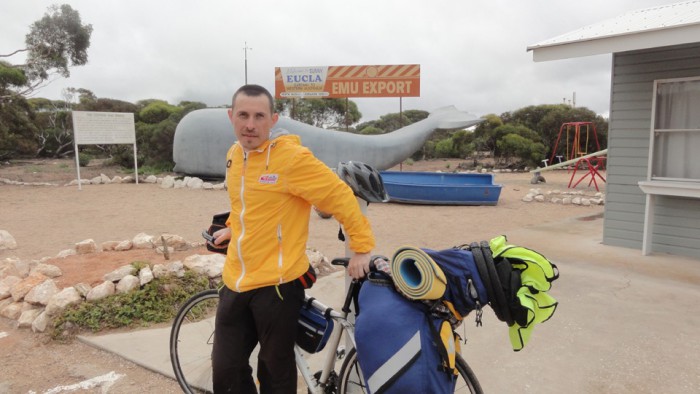 The roads in the Western Australia are much better than in the Souther part so I pedaled at the maximum speed to the next roadhouse. It looked like I could reach it till darkness and I made it. This roadhouse was called Mundrabilla.
I pitched my tent under the tree on Caravan park. I ate some soup in the restaurant and bought some milk for morning muesli. There was only one car on the caravan park. The driver, John, an old man, heading with his wife to the East gave me all their vegetables: carrots and cucumber because they could not bring them to Ceduna.
I had a wonderful shower and charged my camera and phones. I planned to start out early the next day but I left  a deposit on the reception for shower keys and could get it back only after 6 am.
I made 175 km that day.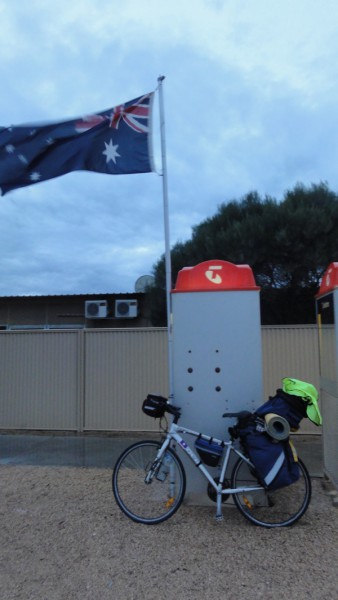 27th April 2014
I wore a fresh t-shirt, underwear and jacket. I washed my pants and now they were absolutely clean. I looked perfect, but only one thing was wrong. Fortunately it was only me who knew about it. It was my dirty and smelly socks.
I cooked muesli with milk that morning, brought the shower key back to reception, waited a few minutes until the rain got slower and started my everyday cycling routine. I had a friendly wind  that day, but it was raining all morning.
I met a kengaroo on the edge of the road. It didn't even tried to hide away. I came very close and the kangaroo was just staring at me. It looked sad and lost. I pushed it away from the road so that a car would run over it.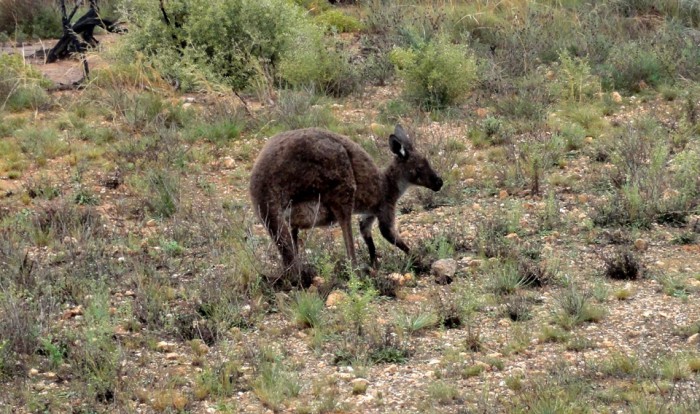 When I cycled 2 km further it dawned on me that I could feed her with carrots. But I didn't turn and moved forward.  The rain finished after 12 but at the same time the wind changed. Only 10 km left to the next roadhouse Madura.
All road in that area was covered with blood drops. It dried since summer and you can imagine how many animals died here. Roadside is full of kengaroo's bones. And only the crows remind you that the life exists here. The Western Australia is not such a beautiful area like the Eastern part.
Finally I reached Madura Pass. It is located on the hill. I ate one chicken burger there and bought a bottle of Cola. I also have pumped my wheels and made a call to Ivan. Bar manager there had a good collection of banknotes from different countries, but none from Russia. I made a present and gave him 100 Russian rubles. He immediately attached it to the door. But I forgot to say him that this banknote is unique because I guess it's the only one in the world with images of naked man penis.
If you make an uphill after Madura heading to west you can have a beautiful overview of savanna.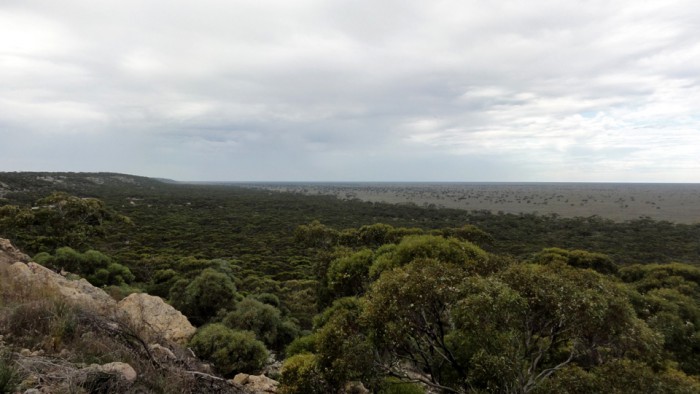 Strong wind is blowing from the North. My speed is less than 12 km/hour. I have two options for a night stay – a rest stop on 62km mark and the next one after 50km mark. Closer to sunset I reached the second one. So I have only 48km to cycle next morning. I pitched my tent in the bushes, washed myself from the bottle of technical water and felt asleep.
I made day 159 km that day.