It's really cold in Southern Australia at night. Only Ian's sleeping bag saved me from cold.
I successfully registered on morning flight to Pt. Lincoln. During 45 minutes flight we received a hot beverage and a muffin.
Pt. Lincoln airport (PLO) is small like Magnitogorsk airport (MQF) and located 15 kilometers north of city. I've assambled my old Trek, put all necessary stuff in a rear backpack. Have a small conversation with taxi driver. He tried to promote a white shark diving in Pt. Lincoln, but I kindly rejected this offer.
My friend in Melbourne – Ivan Ibrin helps me to activate local sim-card, so I'm connected now.
I need to make 60 km today, no more. I had no chance to train in Moscow this spring, so that was the first day just for warming up my muscles.
I found a megamarket and bought a polar blanket for cold nights, WD-40 for my bicycle. Closer to the city exit I visited a small deli shop and got chocolate bars and water (3 bottles).  As I didn't have a lunch I decided to taste a meat pastry. A girl on cashier wished me ' Have a good ride'.
Yes! It should be great!
The road from Pt. Lincoln is quite easy, no hills. Just cycling and looking around on Australian life. The first big impression is a great number of  parrots around. White and pink parrots that are always flying in couples.
Time is moving to 6pm. I've made 60 km and start to worry about place for camping. I stopped at a  turn to think of what I should do. An old man in a car pulled up next to me and gave me an advice to make 15 km off the highway to fisherman spot called Farms Beach. There is a camping area so I can easily spend a night there.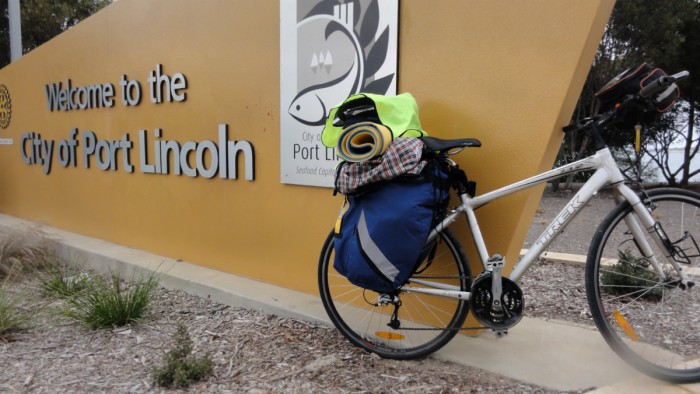 I made this cycle on the gravel road and arrived at a beach. Many cars and trailers hosted here. Even tractors. I pitched my tent on the grass, wash my hands and legs in Pacific ocean. Made a call to Xenia, then to Ivan and felt asleep.
I cycled 75 km that day.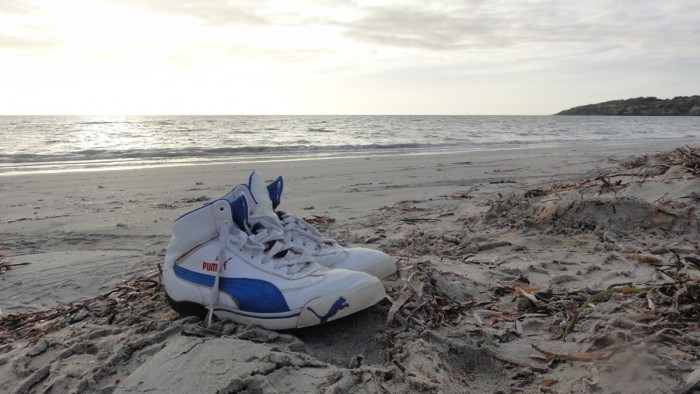 20 April 2014
I woke up early. At 6-20. I collected my tent and other stuff. Then I saw a girl that walked back to camping from morning swimming.
Empty gravel road, no cars. I found a cut to highway and cycled while the sun started to shine warmer and warmer. This is a great time when all parrots are singing  to each other and flying above you.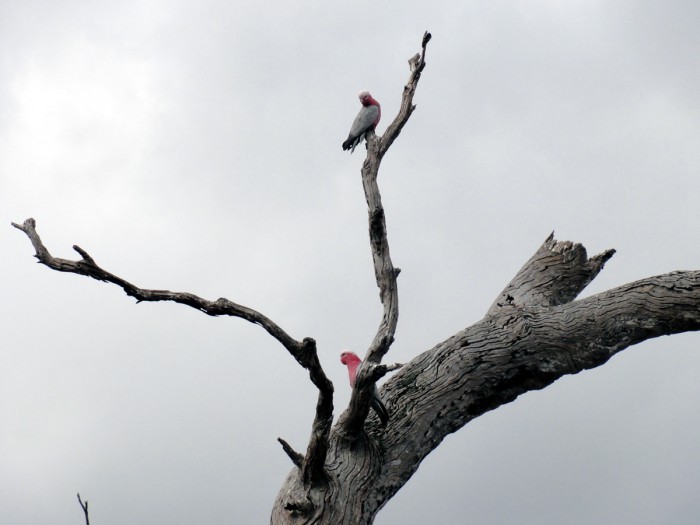 Sheep on the fields around look at me while I was passing by. After 5 km on highway I stopped in beautiful place where trees smelled like in paradise. I ate one chocolate bar and drank some cola.
11.30. The sun is high. I needed a rest. I stopped for 30 minutes for sleeping. I felt much better after a small break and continued to ride. Sooner I arrivedat the first roadhouse on my way. It is called Sheringa. It seemed like a rock concert was planned that evening. I ate one chicken burger there. While I was eating I discovered newspaper clippings on the wall. All articles told about this place and the road sign 'No where else'. Many people tried to steal this plate and successfully. So the owner of the place has to put a new plate every 20th day. Now a cctv-camera is attached to the sign, so nobody could steal it easily.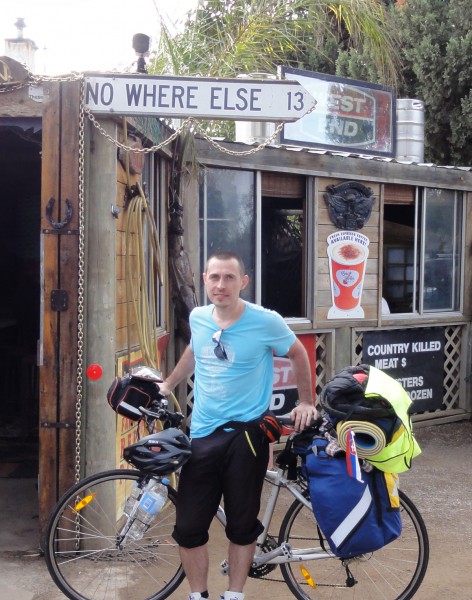 I made a picture with this sign. And I bought a small map of Nullarbor.
Only 40 km left to Elliston, a small city. The sun is setting down. I have a friendly wind and a good road. So i'm moving very fast. I saw emus. They were running through the fields. Then I saw a small Kanga-roo. He drank closer to a water tank. When I tried to get a camera to make a photo he ran away and sat to watch me from a safe distance. Then I saw a fox. She just ran across the road before me.
I arrived at Elliston and found a caravan park. A small boy Tom registered me on computer and said that unpowered site cost to me 38 AUD. I've asked for discount for cyclists. He replied that I have to ask the boss. As I understood a boss is his father. He arrived soon and said 20 AUD for me is enough. Perfect. I found a place on the grass and pitched a tent. Then I took a shower. I made some tea in the camp kitchen and used wi-fi to talk with Ivan.
Therewas no mobile network there. It does exist but  not for me because my cellpshones do not support NextG coverage. That's my fault. I had to buy not only a sim-card but a special phone with NextG support.
The night was warm.
I cycled 120 km that day.