29th of April. It was a very cold night. I wore all my clothes and slept curled in my sleeping bag. Caiguna is 24hours opened roadhouse so I heard a sound of generators all night long.
I started to cycle at 6 am. The fog has covered everything around, but from the other side not a single car passed me for one hour of cycling. When the sun rose I made a stop to wash my face and brush my teeth. I put my warm sweater into the bag but immediately put it on again. It was still very cold that morning. Only when I made 40 km to the west from Caiguna I changed to my sleeveless jacket.
(rus) читать эту статью на русском
There is a water tank on that rest stop with clean water. I filled my bottle and tried it. The water was drinkable and had a good taste.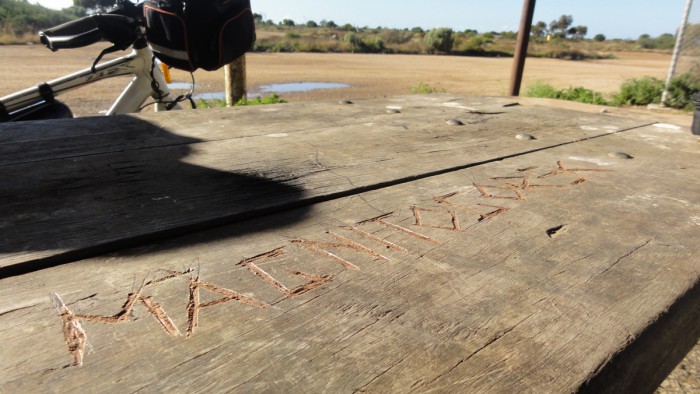 I made 130 km that day. It's a really straight road. I met many great people that day.
At first when I was cycling a trailer started to drive slower along with me. A woman from the window asked me if I would like to drink coffee or a cup of tea. Wonderful! It's like I'm a pro-cyclist and my support team led me on the ride. – Thank you for your great offer. A cup of hot black tea will be great now. Let's make a stop on next turn.
Unfortunately this road doesn't have any turn. They stopped a few kilometers ahead of me. I drove faster through the headwind not to make them wait for me long.
This couple John and Rossie are travelling to west from Darwin. They had already made a long way through the country from the north to the south. We had a talk for a little and I told them where I have started my journey and how I liked this nature, especially parrots. I drank two cups of tea and continued my travel on the straight road.
I notices something new about people. Until now they just waves to me from the passing cars. But now they started to make pictures with me on their cameras, iPads and phones.
I made a big rest after 90km because it was half way between Caiguna and Balladonia. I ate carrots and chocolates and lay in the shadow for 20 minutes. Then I decided to cycle more 30 or 40 km today and find a place for a night camping.
After 20km a man made a stop and offered me a lift.
– Enough, man. – he said. – Your legs must be tired enough. Put your bike in my car and I will pick you up.
–          No, thanks, I have to make this road. Not so much left.
I heard a music on his stereo. It sounds familiar.
– What are you listening to?
– it's Depeche Mode.
–          Right! We were the DM concert in Moscow just a month ago!
His name was Digby and he was heading to Esperance.
He listened to "Never Let Me Down Again". The song got stuck in my mind for the next 10 km.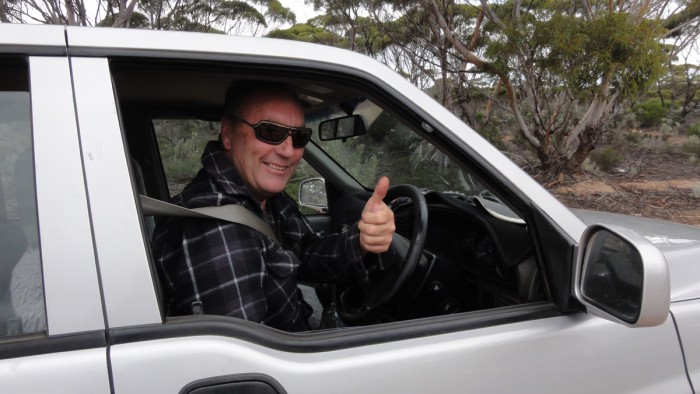 The wind was south-western that day which meant headwind. But it was not really strong. When I entered the forest area the trees along the road had protected me from the wind blowing.
I checked a map on my phone. A good rest stop 10km ahead of me. Without any problem Icovered the distance and reached a perfect place with many cars and trailers.
I pitched my tent on the grass and soon I met other good people from closest Mazda car. They kindly asked me if I was ok and if I had enough water.
I smiled as wide as possible and started to talk about my trip. Then I showed them a video from our family trip. This couple, Jeff and his wife, told me that they were farmers heading west to see Tractors' show. I apologized for talking too much, saying that they were the first people I talked to in two days. I asked for some milk for my museli. And Jeff kindly gave me some fruit. It was my dream to eat fruits!
I made 130 km that day.