If you talk about traveling, especially for european tourists, Australia is kind of 'maybe' country. It's interesting to visit, but maybe later. Because of many reasons – something strange, far, no direct flights and etc. So we know that Australia exists but we think about travelling to Australia maybe some time later, when we get big vacations or earn more money.
All of my friends who have already visited this country made it for immigration. So they had only one way ticket journey, and not for traveling and vacations. They are working hard for new life.
I already was looking for a way to make Australia a part of a big world bike journey. Actually, there are not so many direct flights from Australia to other continents. There are many flights via Singapore and some routes to USA. But I was looking for connection between Australia and South America. Qantas has only one route to Santiago.
Also you can cross Australia from East to West (Perth) and take a ticket on AirAsia to Bali (Indonesia). Then cycle through Indonesia. Anyway Sumatra island is still in my wish list to cycle.
This April, 2014 I have started to think about bike holidays. All my recent travels were to South East Asia. Why not cycle Australia this year? Just as a separated journey. From Perth to Melbourne or the opposite way. As my current passport is going to expire I decided to make a try and request for Australian visa. I got a visa 2 weeks after I applied for it.
So now I need to make another decision – which direction I plan to cycle? From East to West or backwards. Nullarbor is not a place for easy riding. It's a flat area, but it means no walls and borders for strong winds. My final decision was based on a wind direction this autumn. There must dominate eastern wind. Just a day before making a booking I made up my mind to cycle from Adelaide to Perth.
I cleaned my bike for a flight like never before. All this fuss only because of strict rules of ecology customs of Australia. I bought two new tyres (Rubena). It's cheap ones and very soft.
I took a Nokian tyres as a reserve.
The last two weeks before the trip I was really worried about this trip. I had my doubts. It looked like travelling in wrong time and to a wrong place. Only when I got my boarding pass in airport I felt a sense of exciting journey.
Very long flight from Dubai to Adelaide took almost 12 hours. In Adelaide you need to adjust your watch to Southern Australian time +6.30 from Moscow time.
Next morning I have another flight to Pt.Lincoln. To cut a distance and start closer to Nullarbor.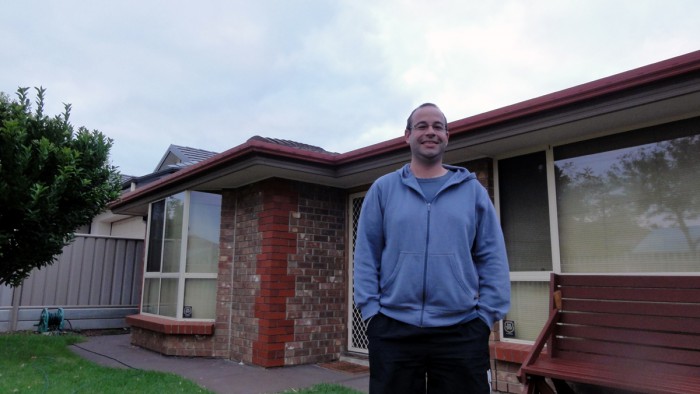 A friendly host on Warmshower – Geraldine had to leave the city for a week. But her boyfriend Ian met me at the Airport. I even didn't care about storage for bike for a night. I tried to pack it in automatic cells in airport but my bike package was just a few centimeters longer than available space. We put a bag in Ian car before morning.
Short night ride across Adelaide. I saw Emirates plane when it took off to fly back to Dubai. Bright B-777 flew away above dark sea.